Siemens followed up its launch of a pair of mass-market handsets today with the release of a more business-oriented phone, the S65.
The company touted the phone's 1.3 megapixel digicam, but we'd say the 32MB of memory, tri-band GSM/GPRS support and Bluetooth integration are more likely to appeal to the average businessperson.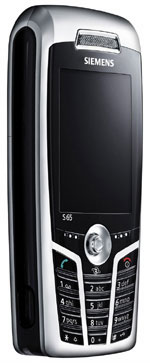 The camera can take still pictures and 15fps video, and features a 4x digital zoom function. The S65's screen is a 16-bit colour job with a large, 132 x 176 resolution.
In addition to the 32MB of on-board RAM, the S65 sports a memory card slot and ships with a 32MB card.
The integrated Bluetooth is there to synchronise the S65's PIM apps with desktop equivalents, such as Microsoft Outlook and Lotus Notes.
The S65 weighs in at 98g and measures 10.9 x 4 x 1.8cm, and will be available in silver when it is launched in Europe, Asia Pacific and Latin America in Q3. Siemens claims the handset yields up to 250 hours' of standby time or six hours' talk-time. ®
Similar topics