Jack Kilby, who invented the integrated circuit, has died aged 81. Kilby was awarded the Nobel Prize for Physics in 2000 for his achievement.
Kilby designed the first IC over the summer of 1958 at Texas Instruments while most of the company was on vacation, and it was first demonstrated on September 12, and unveiled to the public the following spring.
"Humankind eventually would have solved the matter, but I had the fortunate experience of being the first person with the right idea and the right resources available at the right time in history," he said later.
Kilby succeeded in integrating electronic components, including the still-new transistor, onto a single piece of silicon, which made possible low-cost high volume manufacturing of electronic circuits.
It was Robert Noyce, then at Fairchild Semiconductor, who conceived the process for economical production of ICs.
However the industry was skeptical until the first major commercial contract - for the MinuteMan missile - was placed in 1962. The first IC, pictured below, measured 7/16 by 1/16 inches (11.1 mm x 1.58mm).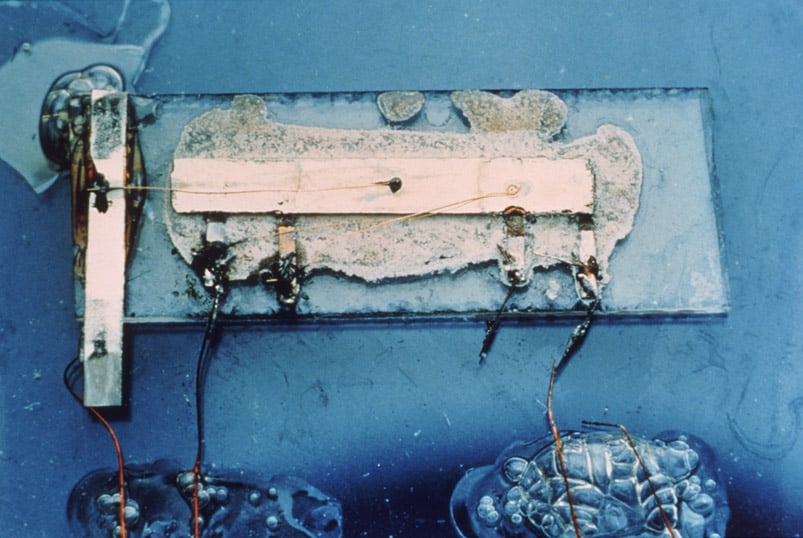 Kilby also invented the first handheld electronic calculator in 1967, and the thermal printer. Texas Instruments' has a tribute site to him here, and this page has the summary of how he designed the first IC. ®
Related story
Nobel prize awarded to computer chip inventor