Update Creative has finally launched its latest portable video player, the Zen Vision, after allowing the device to make a number of unscheduled appearances on the company's website and others.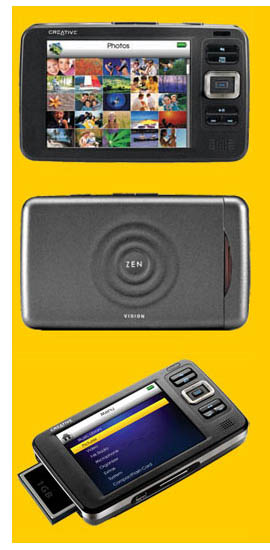 The Vision sports a 30GB hard drive and a 640 x 480, 262,000-colour, 3.7in display. It's got a radio, microphone, CompactFlash card slot for expansion, and a USB 2.0 port for connectivity. The device plays MPEG 1, 2 and 4-SP video formats, along with WMV 9, Motion JPEG, DivX 4 and 5, and Xvid-SP3. It can also handle TiVoToGo files. It can play MP3 and WMA audio tracks - the latter with DRM support.
Like the Zen Micro, the Vision will sync up with Microsoft Outlook, allowing it to be used as a PDA. So Palm had better watch out for its LifeDrive Mobile Manager.
The Vision weighs 232g and measures 12.3 x 7.3 x 2cm - almost exactly the same size as the LifeDrive but slightly heavier. The LifeDrive's Palm OS foundation at least means that it has a ready supply of applications users can install on it, though its 4GB capacity is a fraction of the Vision's.
The Vision is bulkier than a 60GB iPod, and its removable battery less capacious: if offers 13 hours' continuous music play time to the iPod's 15 hours. But then the iPod doesn't do video on its significantly smaller screen. In any case, they're aimed at different markets. The Vision's video play time is 4.5 hours.
Creative is taking orders for the Vision in the US, where it's charging $400 for either a black or a white version. However, the product is not yet available, and Creative did not say when it will ship. It did not provide any indication when the Vision will arrive in Europe beyond "available soon".
However, our (educated) guess is the Vision will ship early to mid-September, first in the US, then the UK and finally the rest of Europe. ®
Related stories
iRiver launches compact Flash video player
Creative preps Zen Vision video player
Related review