Joe Tucci, the chairman and CEO of EMC, is staying on at least until 2015, dashing the hopes of company execs who have their eyes on the top job.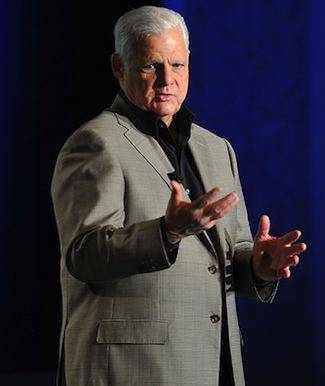 Storage giant EMC filed an 8K form with the US Securities and Exchange Commission that states Tucci will remain the head honcho until at least February 2015. However, the company added:
The Board anticipates that at some time prior to such date, Mr Tucci will fully transfer his role as CEO to a successor and become solely chairman of EMC and chairman of VMware, Inc.
Tucci will get richer too: "On September 5, 2012, the Leadership and Compensation Committee of the Board of Directors … of EMC Corporation … approved the grant of performance-restricted stock units with an economic value of $8 million to Joseph M. Tucci, EMC's Chairman and Chief Executive Officer."
The big "T" had previously said he'd stay on as CEO through to the end of 2013, and indicated a successor would come from inside EMC. Now he has said he'll give up the CEO job some time before February 2015, thirteen or so months later. EMC's share price jumped a dollar or so to $27.51 on the news.
Having the board chairman as the CEO is not helpful in this situation. The corporation has two CEO roles: one at virtualisation software subsidiary VMware, held by Pat Gelsinger, and at EMC itself, held by Tucci.
The El Reg storage desk reckons EMC shares could drop in value if Tucci steps down as CEO and decides to promote an EMC insider who is relatively unknown to investors and analysts. No clear successor has emerged.
Perhaps Tucci is waiting for Wall Street to warm to the idea of EMC president and chief operating officer David Goulden taking the top seat. Then if Goulden does become the new head honcho, it'll just a brass plaque replacement exercise on his office door and the share price will remain unaffected. ®