This article is more than 1 year old
Google Earth: the black helicopters have landed
Hundreds of 'em
That distant rumbling you hear is...
... black helicopters; thousands of 'em. Tom Hobbs gets us started:
Here's an image of Boeing's Black Helicopter factory in Arizona. (Google earth search for "Mesa, Arizona", and then a local search for Boeing). At least we know where they are coming from now!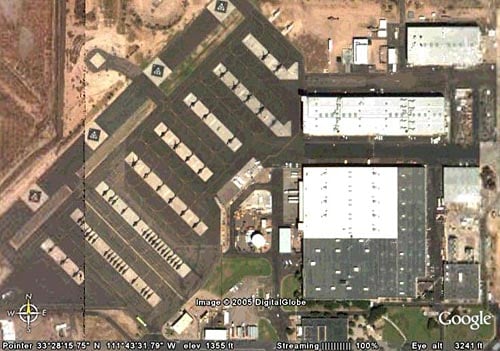 More, this time in Killeen, Texas, courtesy of Neil Green. Neil counts 42 of the little blighters in this particular conspiracy: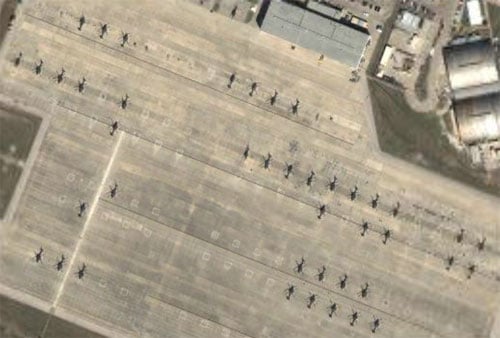 Over at Edwards AFB, meanwhile, Tim has zoomed into a "whole mormon family of black helicopters":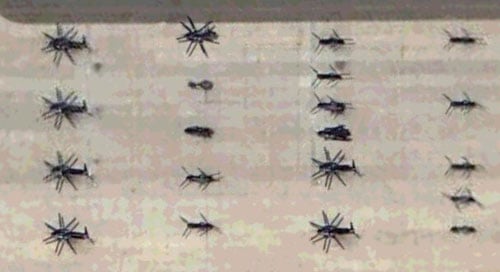 More - Camp Lejeune Marince Corps base, spotted by David L Hughes: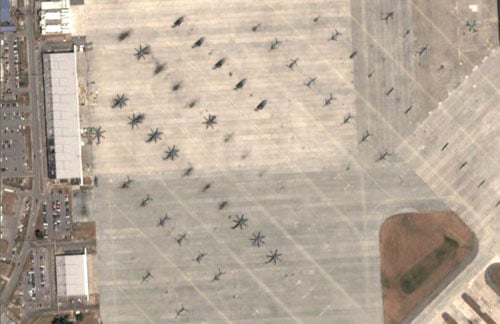 Russkie black helicopter alert from Jeff Gebhart:
Actual black helos at the Calgary International airport...it looks like this imagery was taken during the G8 Summit in Alberta, Canada, and the speculation I've seen is that these are Mr. Putin's along with his Antonov...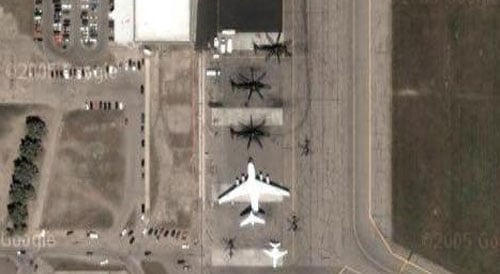 Stephen Morgan, meanwhile, has been spook-hunting in Afghanistan:
Well, you wanted black helicopters , so I thought the ideal place to start looking was where the CIA goes on holiday. As luck would have it there was one on the apron at Kabul International, and it's a big one too...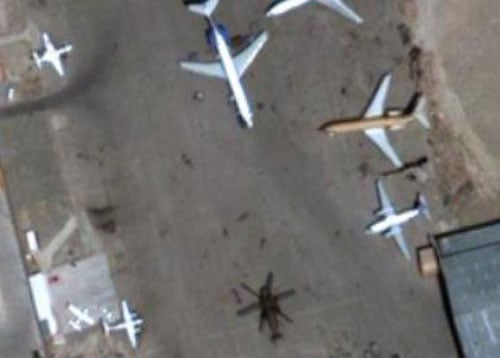 Rupert Roker prefers Iraq as a landing spot:
I found this whilst trying to find photos of troops in combat in Bagdad, however I thought that black helicopters near the republican guard palace were as good a find as any.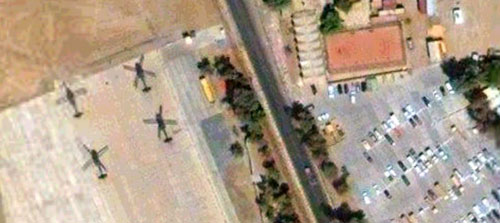 Bloody hell, Iraq's packed to the gunwales with black helicopters:
Found you chums some Black Helicopters, probably belonging to the former leader of Iraq, Saddam Hussein. (although they might be American, it depends on how old you think this data is) This is a snap (courtesy of google) of the Rasheed "Airport" located in the Baghdad suburb of Karadah. It's currently a "coalition" base according to additional information found on GlobalSecurity.Org.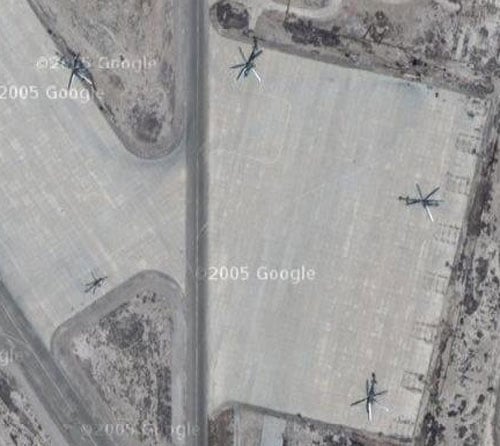 Thanks to Darcrist for that. It doesn't end there, though. Donald Massyn notes:
I found this collection of black helicopters at the Basra airforce base in Iraq, which probably means they're British!! (and I though it was only the Yanks who belong to the black chopper brigade).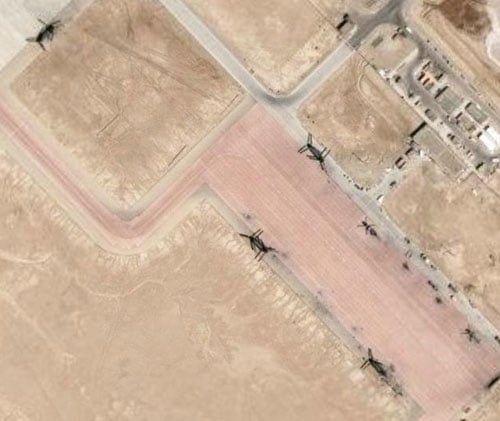 Yup - it's a miracle you can go out of your house in the morning without tripping over a black helicopter. Something slightly rarer, but no less black, is the SR-71: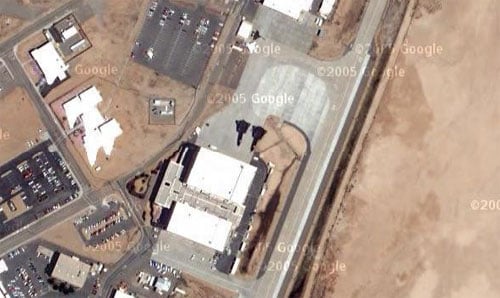 A lovely pair there spotted by Chris at our old favourite: Edwards AFB, California. Want more airfields? Read on...