When we nicknamed Intel's new dual-core Xeon processor "Hot Carl," we didn't know how prophetic this would be. A fresh set of benchmarks comparing the Xeon with AMD's dual-core Opteron chip show Intel's product to be a power hungry demon that doesn't perform.
GamePC got its hands on some of the Xeons - code-named "Paxville" - and put the chips through a battery of tests. Most startling is the dual-core Xeon's voracious power consumption. Intel reckons Paxville will need 135W for average software loads and run up to 150W at peak. When plugged into a two-way server, this pull proves troubling.
"There's no doubt about it, Intel's dual-core Xeons are their most power hungry Xeons to date," GamePC writes. "Even when idling, two dual-core Xeons consume nearly 400W of power at any given time, which is amazingly high, even by Intel's standards.
"AMD's competing dual-core Opteron processors consume far less power, especially using AMD's PowerNow! Technology. When this is enabled, Opteron power consumption drops to roughly 160 to170W when idling.
"To be fair, we could not get EIST to function with our new dual-core Xeons, which may help idle power consumption levels. However, their full-load levels are ghastly high."
That's a disturbing result for Intel, which has suddenly jumped on the performance per watt bandwagon after bragging for so many years that it could produce chips hotter than the surface of the sun. Apple CEO Steve Jobs justified his switch to Intel processors by arguing that, "future products can't be built on IBM's PowerPC. Intel has performance and better performance per watt. Intel delivers much better performance per watt."
Let's hope he has a flame retardant turtleneck.
To be sure, Intel is trying hard to move away from its power-hungry legacy, but as Paxville shows, green computing doesn't come easy. Oddly, Intel has admitted that Paxville isn't the most elegant dual-core chip on the market and expects most customers will wait for better performing Xeons due out in 2006.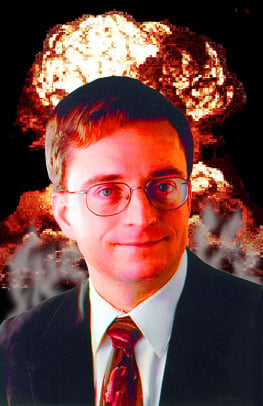 Intel server chip chief Pat Gelsinger. Behind him, Paxville is caught during a critical phase of its boot sequence.
All of this gives rise to the question - why even release Paxville?