This article is more than 1 year old
Samsung, SanDisk prep iPod Nano clones
Yet more small, black 2GB and 4GB MP3 players...
CES Two MP3 player makers today demonstrated their decision to compete with Apple's iPod Nano by... er... announcing virtually identically styled products. Step forward Samsung and SanDisk, whose YP-Z5 and and Sansa e200 players elicited immediate 'it looks like a Nano' calls from assembled hacks.
Ah well, if you can't beat 'em, join 'em...
Samsung's YP-Z5 is the least Nano-like of the two, but since it comes in shiny silver and black models, in both 2GB and 4GB Flash capacities, it's clear where the company's designers got their inspiration from. It's pretty much the same size as a Nano, too, as is the SanDisk device.
Samsung's pitch for its player as a Nano killer is a claimed battery life of 38 hours, rather more than the 14 hours Apple claims for the Nano. The YP-Z5 also sports a 1.8in colour LCD, in portrait orientation rather than the Nano's 1.5in landscape display.
The Sansa e200 also boasts a 1.8in display, similarly configured. SanDisk's player has 6GB of storage, but it's also available in, yes, 2GB and 4GB forms. SanDisk being a purveyor of memory cards has equipped its player with an SD card slot for additional memory.
Like the YP-Z5, the e200 supports MP3 and WMA audio files, the latter with DRM support. Both will also hold photos and display them in slideshows.
SanDisk claimed a massive 128 hours' playback time for the 6GB player - double that of the 4GB model and four times what the 2GB model offers. So either it's shipping different sized batteries in each model - or it's simply stating that's how long it takes to play all the songs on a full player. Whether the 6GB model's battery will last 128 hours isn't clear at this stage.
SanDisk said its Nano clones will ship in March, in both the US and Europe. Samsung's player will arrive in February, a company official said. ®

Samsung's YP-Z5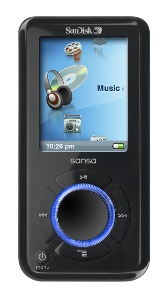 SanDisk's e200