This article is more than 1 year old
Motorola Q smart phone 'available April'
Company confirms delay
Motorola has tacitly confirmed past claims that its Blackberry-style smart phone, the Q, will just miss its original Q1 2006 shipping timeframe. According to a page posted on the company's website, the 1.2cm-thick, keyboard-equipped handset will be "available April 2006".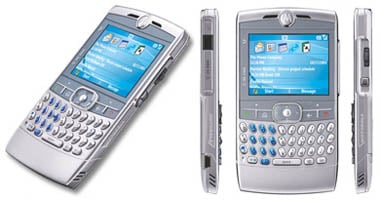 Motorola announced the Q in July 2005, targeting a Q1 2006 launch date. In September 2005, company CEO Ed Zander hinted the device might debut early. That didn't happen, and the company's website indicates that the phone wouldn't be made available until April the original ship date won't happen either, at least not shipments to end-users.
To be fair to Motorola, it's entirely possible that it has held back pending the arrival of Microsoft's push email upgrade for Windows Mobile 5.0, the Q's operating system. However, the now promotional page on the Motorola website makes no reference to push email.
Motorola's pitch for the Q is that it will be the "thinnest, lightest" handset with an integrated QWERTY keypad. It measures 11.5 x 6.3 x 1.1cm, which is certainly thinner than the 2cm-thick Palm Treo 650 and the 1.8cm-thick RIM Blackberry 7780, though the Palm device's face is smaller. Unlike the Treo, the Q has no antenna stub.
The Q's display is a 2.4in, 320 x 240, 65,536-colour job, and the handset also incorporates a 1.3 megapixel digicam with a flash. There's a Mini SD slot for memory expansion, and Bluetooth for wireless connectivity. The keypad is backlit, and Motorola has built in speakerphone capability. ®