This article is more than 1 year old
Trolltech sees a billion Linux phones
Qtopian visions
If Linux is to grab a significant chunk of the mobile phones business in the coming years, as supporters hope, then much of its fate is in the hands of Trolltech.
The Norwegian software house is best known among software developers, for its GUI toolkit - rather unfairly, as it's been playing in the embedded arena for six years now, and recently the company is hiring like it means business.
Last autumn Trolltech announced it had lured both Karsten Homann, Siemens software VP, and Benoit Schillings, Openwave CTO, to Oslo. Schillings (vintage Q&A here) is the storied designer of the BeOS, and led the development of Openwave's V7 software suite. While Schilling reprises his former role as CTO, Homann heads up the integration side of the business, working with handset manufacturers.
But when we caught up with Trolltech's two founders on a recent swing through San Francisco, it wasn't the most talked-about market that they believe will dip towards Linux. Eirik Chambe-Eng and Haavard Nord are quite happy to let Symbian and Microsoft duke it out for ascendency in the smartphones segment.
It's the increasing complexity of feature phones where they're pitching their Qtopia embedded suite.
"Microsoft and Symbian are established in smartphones, they have good support for business applications. It's the feature phones and low-end that we believe will be a success for Linux," says Eng.
"We think Linux will dominate the market segment where the bill of materials (BoM) is around 60 to 70 dollars and down. That's not the smartphone segment but it's a mass market, around one billion devices shipped each year," explains Nord.
Linux has already been adopted on a big scale in Asia, he says, shipping on more smartphones than Microsoft, PalmOS and RIM combined. (That's at least double figures - ed).
Coming up on the blind side has its advantages. Trolltech's Qtopia has already notched up some impressive wins, and powers four Motorola phones including the A780. More significantly, Chinese giant ZTE and Datang are using Qtopia, the latter in testing China's home-grown 3G technology, TD-SCDMA.
To prove that these aren't just past glories, Harvaard and Erik showed off Motorola's Ming feature phone, soon to be corrupting the Chinese bourgeoise. And very nice it is too. (Reg preview.)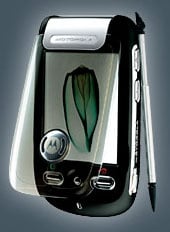 Trolltech bets that the increasing complexity of midrange phones - especially with the demand for a robust music player - makes today's modem-based phones unsustainable in the long run.
"The line between smartphones and feature phones will be totally blurred," he predicts.
But it's not going to be easy getting from here to there. The most talked-about phone at 3GSM in February was Sony Ericsson's W950, which is a single chip smartphone with a midrange price. With one chip running the baseband radio and the applications processor, manufacturers can create some BoM savings, and take high end features to a mass market. But it needs a real-time OS, capable of handling the signalling stacks, something Symbian has but Microsoft doesn't, and probably won't for another couple of years. Does Linux?
"Trolltech is working with handset manufacturers that are building Linux handsets based on single core, so these phones are being prepared to ship - but the timing is hard to tell," says Nord.
MontaVista and others, he adds are developing a real time-hardened Linux supporting single core.
"There will be phones this year that use this," he says. "It can be done either by real-time extensions to the Linux kernel, such as the software developed MontaVista, or by virtualizing."
The pair acknowledge that for one-off phone projects, Linux doesn't really have time to market advantages. But they're adament that for projects encompassing several phones, the opportunity to speed up tailing each device presents itself. ®
But Trolltech doesn't believe the GPL holds much appeal - and Qtopia isn't free software. Trolltech helped pioneer a dual license approach, and believes that the GPL doesn't hold the same appeal for hardware manufacturers that it does for software developers.
Why not?
"The phone guys want to retain control," says Eng.
"There's an aspect of the GPL which is 'viral', which manufacturers don't like," adds Nord.
Qtopia is popping up in some curious places. Sprint is offering the Kangaroo TV handheld for rent during NASCAR races. And it's already in one VoIP handset, Leadtek's recently announced Videophone.
One place it won't be, at least for the forseeable future, is in a Palm PDA. Eng says that Trolltech was talking to PalmSource at one stage last year, but a deal never materialized.
PalmSource had acquired a Chinese Linux handset vendor late in 2004, and during the spring revised its strategy again, focussing new development entirely on Linux. PalmSource was acquired by Japanese mobile browser company for over $300m late last year, and announced its Linux roadmap in February. In a couple of years it might be where Qtopia is today.
"We talked to them before the acquisition by Access. Obviously we were disappointed."
That's a reet shame. ®
Related link