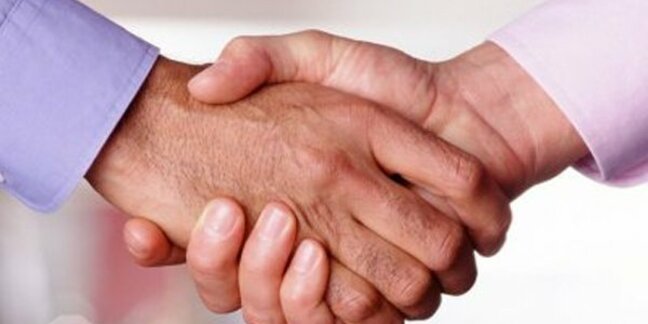 Analysis Ever wondered where the expression "barking up the wrong tree" comes from? It comes from dogs, who have been getting the wrong end of the stick for donkeys' years.
Ironically, it is a dog's knack of following mistaken lines of inquiry that makes it such a reliable police surveillance tool. The police describe false alerts by dogs as a sign of their "oversensitivity".
Oversensitivity is a much hankered after characteristic in surveillance technology: the Ion Track narcotics machine was recently praised for its "efficiency" when Edwina Hart, the social justice minister in the semi-autonomous government of Wales and William Graham, a member of the Welsh Assembly, who had arranged for police to demonstrate the machine at the Assembly building, were found to have been in contact with cannabis.
The Department of Transport and British Transport Police (BTP) recently published a glossy leaflet outlining trials to be conducted on rail and tube systems to improve security following the London terrorist attacks in July 2005. The leaflet explains that they will be experimenting with different forms of electronic passenger screening - x-ray screening of bags and the use of sniffer dogs.
The Observer has labelled the prevalence of sniffer dogs on our railway and underground stations as "the public face of terror". A drug squad officer said: "The law made it so difficult for us to stop and search people, we had to find a way round it."
Is oversensitive detection equipment the latest means for getting round the legal prerequisite of reasonable suspicion?
Police dogs are trained to detect either explosives or drugs; they can't generally do both. A BTP spokesman said drug detection dogs were being used in London underground stations because "we've got more [drug] dogs", though he wouldn't disclose how many canines were being used for this purpose. "We don't want people to know otherwise they will know our capabilities. We want to keep people guessing."
Action on Rights for Children (ARCH) became aware of "the problem" of drug dogs in Leytonstone station when two young people associated with ARCH were subjected to humiliating and aggressively-conducted searches following indications from drug dogs.
One 16-year-old boy was taken outside in the cold and made to remove his jacket. The police officer told him "the dog is never wrong". When the police had finished searching him and confirmed there were no drugs on his person, they became less aggressive towards him, but said he must have the smell of cannabis on him from somewhere he had been. He explained he had been at a Department of Education and Skills meeting all day.
The man in the newsagent kiosk inside the station, who has witnessed several dog operations, told ARCH the dogs are often wrong. His friend is a chef and the dogs bark at his clothes every time he visits the kiosk. ARCH is now collecting complaints from young people with tales of unjustified police harassment.
The BTP spokesman said it's "impossible to tell" how often dogs are wrong in their indications. Apparently, they are so sensitive "they can even detect the scent on you if you have brushed past someone who is carrying drugs".
He said "an indication from a dog is not an indication that the person has done anything wrong. What it does is provide probable cause for a search".
Normally one would imply the other, but no longer, apparently.
New surveillance technology is so sensitive it can provide police with reasonable grounds to search people without necessarily indicating they have done anything wrong.
The only empirical research into the public deployment of drug dogs was conducted in New South Wales, Australia, and revealed that over a 12 month period 73 per cent of people searched as a result of dog indications had no drugs about their person.
Despite their "oversensitivity", dogs are apparently not sensitive enough to detect target substances. A recent investigation into Chicago Metra Train system found that a bomb-sniffing dog that "protects" commuter railways failed to detect a pound of explosives concealed in luggage less than six feet from its nose and, in another case, a dog and handler did not discover explosives in luggage placed in front of the dog for 30 seconds.
Sponsored: Webcast: Simplify data protection on AWS