Engineers in Sweden have announced the development of a prototype tank which is covered in "pixels" that enable it to disappear from thermal images – or to disguise itself as something else.
The "Adaptiv" system, funded by the Swedish Defence Materiel Administration (FMV), covers the test vehicle in hexagonal panels whose temperature can be quickly adjusted. The vehicle's own thermal cameras scan the background against which the tank is seen from each aspect, and the system can then adjust the pixels to match, making it very hard to see using thermal imaging systems. Alternatively, the pixels can be manipulated to present the appearance of something other than a tank – for instance a car or truck.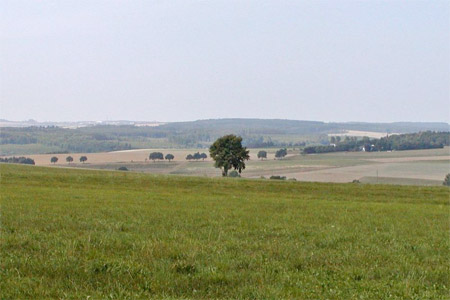 How future visible-light versions of the stealth tank might look in action.
"Earlier attempts at similar cloaking devices have hit problems because of cost, excessive power requirements or because they were insufficiently robust," says the stealth tank's project leader, Peder Sjölund, who works for the Swedish tentacle of UK-headquartered arms globocorp BAE Systems.
"Our panels can be made so strong that they provide useful armour protection and consume relatively low levels of electricity, especially when the vehicle is at rest in 'stealth recce' mode and generator output is low."
He adds: "We can resize the pixels to achieve stealth for different ranges. A warship or building, for instance, might not need close-up stealth, so could be fitted with larger panels."
BAE claims that the Adaptiv thermo-camouflage can work even with a tank in motion, though it would probably be hard to hide hot exhaust plumes if it was going at all fast. (Stealth fighter planes dump all the heat they can into their fuel tanks to help with this, but there's no suggestion that Adaptiv includes such measures as yet.) Thermal imaging is particularly important in armoured warfare, which is probably why the system has been applied to tanks rather than warships etc.
The company hints that the spectrum in which the stealth cloak works may be widened in future, saying in a statement issued today:
Current work focuses mainly on the infra-red spectrum. However, BAE Systems engineers have combined the pixels with other technologies, which provide camouflage in other parts of the electro-magnetic spectrum at the same time to provide all-round stealth, which will be developed further over the next few years.
This might see Adaptiv-clad tanks able to disappear not only in thermal imagers but also, perhaps, nightsights working in the shorter-wavelength infrared bands – or even, perhaps, able to accurately mimic their background even to the human eye in daylight. Such kit has long been rumoured to be under development.
An Adaptiv-clad CV90 light recce tank will be exhibited at the DSEi armsbiz expo in London later this month. ®