Every Intel CPU from 4004 to P4 up for grabs on eBay
'Museum-grade collection', claims seller
---
With Intel gearing up to cease manufacturing its 386, 486, 960 and other processors of yore, one eBayer is offering technology enthusiasts the chance to own almost the entire collection of the chip giant's microprocessor products.
Well, not all of 'em - some are still sitting in folks' PCs, after all - but rather one of each type, many of them highly esoteric but "historically significant", in the words of the seller, who claims to have spent eight years putting the collection together. The selection runs from the original 4004 through to the Pentium 4.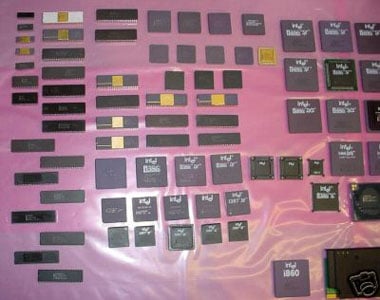 The array is described as a "museum grade, quality collection". According to the seller, "the chips have been chemically cleaned for the absolute best possible cosmetic appearance while being displayed. This collection would make a fantastic educational tool for a university or technical school."
The seller also suggests the collection "would also look great on display in the lobby of a major computer or electronics industry leader", but we expect any such buyer would stop at putting the bundled selection of Intel bunnysuit dolls on show too.
Interested parties can buy the collection now for just $2,500 - postage is extra, natch. More details, pictures and a complete list of what's on offer can be found here. ®