Anyone wondering why the UK's sink estates are full of 12-year-olds pushing prams while their asboed-up 15-year-old boyfs throw fridges onto decorated war veterans from the top of abandoned 1960s tower blocks, should look no further that Tesco's ecommerce tentacle for the shocking answer: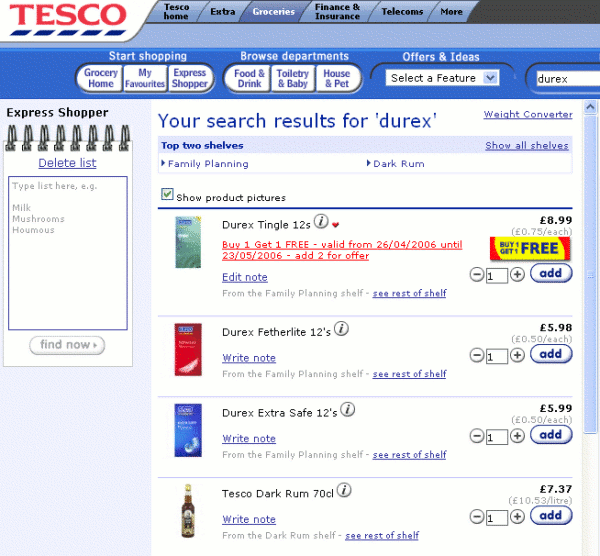 That's right: even those bowed-legged chavettes who'd rather spend their time browsing the UK's paaand shops for gold clown necklaces and glitter scrunchies than shopping for babygrows - and have accordingly elected to do the responsible thing - are invited instead to partake of the Caribbean's finest rumpy-pumpy fuel.
And after half a bottle of that, it's either back to the GP for a morning-after, or down to the social to add little Chardonney to the benefits roster. We have forwarded our dossier to the appropriate authority - the Daily Mail.
Bootnote
Our informant Simon Murton notes that this "doesn't always work straight away – if you click on 'my favourites' on the left side then do a main search it shows up. Usually!!!" We should add that you have to be a signed-up online customer to avail yourself of this offer.