MS unveils PC rental plan
Pay-as-you-go computing for emerging markets
Microsoft today launched a technology to enable the delivery of PC rental schemes in emerging markets modelled on mobile phone pay-as-you-go packages. Dubbed FlexGo, the framework allows suppliers to rent out PCs activated by pre-pay cards. Consumers buy access to the machine for a certain period of time - when the card runs dry, the PC refuses access until the user buys more runtime.
Microsoft said the scheme was aimed at regions where folks can't afford to buy new machines or can't get credit to do so either. The scheme overlaps a little with projects to offer developing countries low-cost computers, but it's aimed more at nations that already have large urban populations and industrialisation.
Microsoft said trial pay-as-you-go PC schemes were now commencing in Brazil, with other pilots coming soon to China, Hungary, India, Mexico, Russia, Slovenia and Vietnam.
FlexGo also enables subscription models, allowing, say, ISPs to provide customers not only with internet access, but a machine to connect up at their end. Depending on the ISP's business model, users pay a percentage of the up-front cost of the PC or nothing at all.
The pay-as-you-go programme works the same way but the initial cost to the consumer is likely to be higher because there's less opportunity for the machine's provider to recoup costs over time.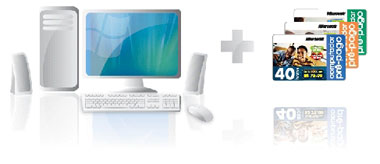 Either way, end users are likely to end up paying more for the PC than they might otherwise do, as is the way with all credit and rental schemes. Of course, buying outright may be less expensive in the long run, but it assumes the user has the wherewithal to do so.
But this is no philanthropic exercise - Microsoft's partners see the scheme as a way to sell more PCs and the software giant is itself looking to ship technology licences and server software on the back of it.
Will consumers in the countries Microsoft is targeting perceive a benefit to PC ownership? And will the system be sufficiently secure to prevent its abuse? Microsoft claimed that in addition to the metering system FlexGo adds to a "standard PC", it also monitors the PC for attempts to compromise its integrity - if someone puts back the system clock, for example. ®