This article is more than 1 year old
Junk science - the oil of the new web
Extraordinary delusions and the Wisdom of Chimps
Comment Borges once wrote that what the world needs is more good readers, not more good writers. So when bad ideas and sloppy thinking abound, is it more the fault of the author, or the public's desire to misrepresent their views?
Maybe you can help us decide.
There's a case to made that James Surowecki's The Wisdom of Crowds is the most influential book of the decade - The Selfish Gene for the noughties. Both have something else in common: the title of each book is profoundly misleading. Crowds aren't wise, nor can genes be selfish - as one critic famously wrote, any more than atoms can be jealous.
Just as the young polemicist Dawkins paved the way for the social darwinism of the Reagan and Thatcher years, Surowecki's discussion of futures markets and "collective intelligence" provides the flimsy premise for a spending splurge on junk technology. It's the common thread that unites several of the disparate "Web 2.0" start-ups we wrote about yesterday, in our must-read roundup.
Both authors were the catalyst for entire schools of junk science - yet both can justifiably claim to have been misrepresented to some degree. While Surowecki is clearly as bewitched by "collective intelligence" as Dawkins was by a gene-eyed view of evolution, he also warns that the crowd only picks winners in very specific circumstances, where the collective guess work acts as a kind of risk hedging. If these factors aren't present, then the market falls victim to the inevitable: gaming.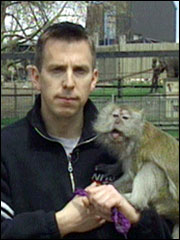 But even when this appears to work, so what? Seth Finkelstein notes that in some situations, throwing darts at a dartboard produces excellent results. Citing the Wall Street Journal Dartboard Contest, he writes,
"People are fascinated by ways in which data-mining seems to represent some sort of over-mind. But sometimes there's no deep meaning at all. Dartboards are competitive with individual money managers - but nobody talks about the 'wisdom of darts'", he writes.
And today, Canadian hockey fans are rejoicing in the return of Maggie the Macaque. The simian (on the right) out-performed the experts in predicting the results of key games during the 2003 season. Could it be Maggie's diet of crabs, or could it be - "The Wisdom of Monkeys"?
One need only look at the composition of the internet to understand why the "Wisdom of Crowds" will never apply: the internet isn't representative of society, and even amongst this whiter-than-white sample, only a self-selecting few have any interest in participating in a given pseudo-market.
While Wisdom of Crowds was self-consciously written with the purpose of restoring the public's faith in the market, after the dot.com bubble burst - it was titled after Charles Mackay's Extraordinary Popular Decisions and The Madness of Crowds - it's had the opposite effect.