This article is more than 1 year old
eBayer driven to edge by email quippery
Web wags target defenceless car vendor
It's a simple enough prospect: you've got a second-hand silver Ford Galaxy Ghia automatic you want to offload, so where better to get rid of it than on eBay? Here's the plan - set up auction, post nice pictures, include full details and wait for the bids to roll in.
Or rather, wait for the emails to roll in. Hundreds of 'em, as every muppet and wag in the land jumps on the "bait the vendor" bandwagon.
That's what happened to the seller of this fine automobile...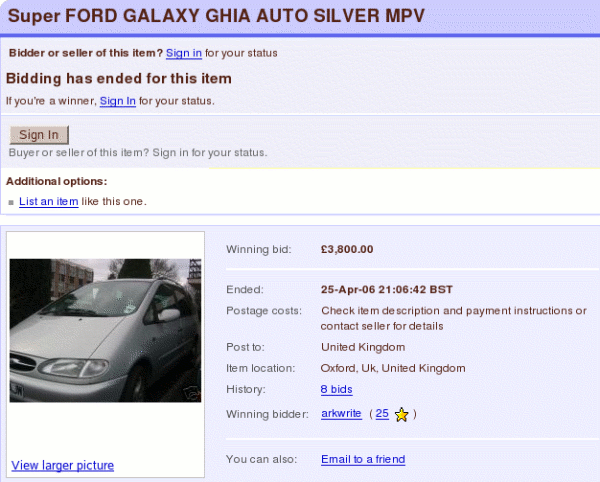 ...who was subjected to a barrage of queries and quips which might well have unhinged the mind of a lesser mortal. The full transcript of his struggle to hold back the tide of insanity makes fine Friday afternoon reading. Enjoy while thanking reader Steve Powell for the tip-off:
---
On 22-Apr-06 at 13:49:33 BST, seller added the following information:
Ok for the person who came to test drive it and exclaimed "Oh it's Silver - I don't want a Silver one!" Yes it's Silver. Just so that there is no error here The title says it's Silver, the description confirms this and guess what? When you look at the photo's what do you see? Yup you got it. It is indeed Silver. I am so glad that you came to view it, thanks for brightening my day.
---
On 22-Apr-06 at 13:58:42 BST, seller added the following information:
Hi,
Had 4 or 5 people asking what the reserve is....I can't see a reserve price on it...can you? ...er there isn't one. This is selling all the way. When the hammer falls the highest bidder wins regardless.
---
On 22-Apr-06 at 14:45:39 BST, seller added the following information:
Ok a round up of the latest emails:
Sorry no swaps or trade-ins - I'm not a garage! Not even a very nice garden shed painted red that I have to dismantle myself, but thanks for the offer.
Being registered in 2000 makes it 6 years old...I have never heard of a warranty this long so no it is not under warranty.
Yes it is road legal - it's got an Mot!
Nope no tax
Yes it has a spare wheel. (Have I landed on a different planet or something?)
No faults that I know of beyond what's in the description however that's not a promise as I'm not a mechanic and no there is no trial period. Come and try it make your own mind up. If you win you buy.
No I don't think that I'm your long lost husband George from Arbroath regardless of how sarcastic I appear to be. It's called humour where I'm from. Personally I think George did the right thing where ever he is.
The only finance is: you pay me I give you the car, I'm not a bank!
I can't vouch for the other owners but no accidents that I am aware of.
Yes you can look at it but no you can't take it for a two day test drive. (I am sure April 1st has gone).
Ha ha very funny, no it's not made out of chocolate. (Why me. I get on a train / bus and I get the nutter. I even land the nutty taxi drivers who have just had Paris Hilton in the cab 'honest' - yeh right.). Get a life and start bidding.
How do you place a bid?...sorry if this is too complicated for you I tend to think that driving might just be a stretch too far.
No it's not left hand drive and your holiday in france and the precise route sounds wonderful. send me a postcard.
Arghhh
---
On 22-Apr-06 at 19:45:14 BST, seller added the following information:
Ok I think I have become email capital of ebay...a real magnet for wonderful questions:
All the seats are present and work, I know that you have counted them in the pictures and can only see 7. There is a very good reason for this...it's a 7 seater.
No it's never been raced ...sorry am I missing something here, Auto Galaxy racing???? May be it'll be be a new class at Imola this year - Auto F1 MPV trials.
There are no rips or tears to the head lining
How the hell do I know if anyone has ever eaten in it. I assume no four course meals but may be the odd hippo pastie. Get a grip.
It's not an off road vehicle so I assume it hasn't been used as such...this is an assumption mind you.
Oh I see, no dear, 7 seater includes the driver.
I can't speak for previous owners, I'm not aware of animals being in it. I suppose a previous owner could have been a zoo keeper or a werewolf.
Keep up the emails as there is nothing else I'd rather be doing with my time. have fun and happy bidding. Is it a full moon tonight?
---
On 22-Apr-06 at 23:00:22 BST, seller added the following information:
Come on guys give it a rest it's saturday night...get a life...
Why does it make any difference how many people are watching this? Just bid.
You might have a large family and can't afford very much, I am sorry on both accounts but I'm not a charity.
Again no swaps, not even if your car is really nice.
I'm glad that you are enjoying this Sheryl, watch telly or something, haven't you got a boy friend or something?... no better still bid - now!
---
On 23-Apr-06 at 12:00:55 BST, seller added the following information:
Sunday the day of rest...yeah right...more gems from ebay land...
Thought this might interest you - On one of my last auctions the guy who won it said that he had hooked himself up to a blood pressure monitor in the closing minutes of the bidding and his pressure went up to some ridiculous level. I do wonder some people on the net at times. Must get out more and interact with more carbon based life forms (humanoid) springs to mind.
The reason Jerry, that the gear stick is a funny shape is because it's an A U T O M A T I C gear box. Which means that if you do come to look you will find that there is no clutch. It's not missing by the way they just don't need three pedals. Should be just perfect for some as it's just like a pedal car - only two pedals.
No it's not like new, Fran, it's 6 years old and done 67,000 + miles with kids.
The seats are all fine, except the drivers arm rest as mentioned before.
The exhaust appears to be fine. Whilst we are on the subject of expelling waste gas....
Ok guys enough for today. I'm off to do some things as I have a life. More tomorrow no doubt.