Review Mac owners peeved that Apple has only just introduced glossy notebook displays - products the rest of the laptop industry have long since adopted - have a saviour, of sorts, in the Post-it company 3M. So too do notebook users fed up of folk peering over their shoulders to sneak a peek at their screens. 3M has solved both problems with a new line of LCD privacy filters...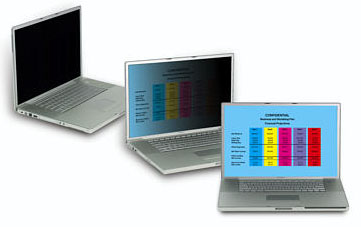 The company offers five Laptop Privacy filters for notebooks ranked by screen size. Having just taken possession of a spanking new MacBook Pro, I took a look at the 15.4in filter, but 3M caters for 19in, 18.1in, 17in, 15in, 14.1in, 13.3in and 12.1in screen sizes. With the filter in place, anyone sitting face-on to the machine can see what's on the screen. Sit either side of them and all you're supposed to see is black.
The filter is a dark sheet of plastic not unlike a polarising lens in a pair of sunglasses. One side is reflective; the other has a matte finish, so it caters for your personal taste for how laptop displays should look. If you have a glossy screen and you don't like it, here's one way to get that old-fashioned anti-reflective look back - and vice versa.
The filter cuts out some of the light passing through it, of course, so either way your screen is going to look darker than it would without the filter. But with a reasonably bright screen to start off with, the filter-fitted display remains eminently readable and certainly no worse than knocking the backlight brightness back three of four notches. I'm used to that because I often dim my screen when the laptop's running on batteries. Even pulling the backlight back to its lowest still-lit setting was readable, though you'd probably not want to go quite so far.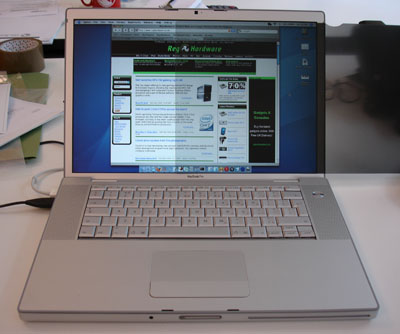 The filter fits inside the MacBook's aluminium bevel, though it's slightly smaller to aid removal. 3M bundles a strip of half-a-dozen self-adhesive (natch) transparent plastic semi-circles which attach to the screen's bevel to hold the filter in place when you're opening and closing your laptop. There's a curve cut on one edge to help you lift the filter offer and while the shape it makes is obviously brighter than the rest of the screen, I didn't find it any way distracting.