Sling Media has launched its Slingbox location-free TV system in the UK, pitching the product at consumer who want to watch British digital television broadcasts anywhere they can get hold of a broadband internet connection.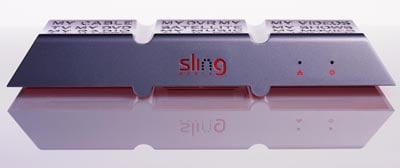 The UK-edition Slingbox supports both digital and analogue TV. The unit has an aerial pass-through port so it can be connected in series with other AV kit, such as a regular Freeview box, a PVR, a VCR and a TV. The gadget also has s-video and composite-video I/O ports - SCART devices are supported with a bundled adaptor.
The other key connector is the Ethernet port - the Slingbox hooks into a router or broadband modem to transmit the channel it's tuned to out across the net to software running on a PC or Windows Mobile device. A Mac version is in the works and due early this summer. The remote device can control the Slingbox's tuner and connected devices using bundled infra-red dongles.

Unfortunately, the Slingbox isn't a wireless device and it's limited to one remote viewer at a time. Available now exclusively through Dixons Store Group outlets - Curry's, PC World etc - for £180 - rather less than the £349 Sony is asked for its rival LocationFree TV product, the Sony's box will work on a home WLAN. ®
Sponsored: Webcast: Discover and secure all of your attack surface