Motorola today began shipping a gold-coloured version of its RAZR V3i clamshell handset. The gaudy article is co-branded by Italian fashion house Dolce & Gabbana. The sound you can hear in the background is a million chavs clamouring for the gilt-like device.
Apart from the D&G logo and the tasteless colourscheme, the phone's a standard V3i, it seems. It's go 12MB of on-board memory and a MicroSD slot to add more. It has a video-capture capable 1.23-megapixel camera and Bluetooth for transferring recordings or connecting the matching gold H700 headset Motorola also touted today. The V3i DG is quad-band.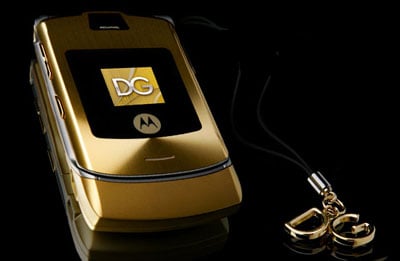 Other suitable D&G-themed and gold-coloured accessories available for purchase are a pair of stereo headphones and an "eel skin" carrying case. You'd have thought these would be included with the fancy phone, but no. Instead, buyers get a D&G logo pendant, pre-loaded MP3 ringtones and matching screen themes.
The RAZR V3i DG is available from today at selected Dolce & Gabbana stores and all major Motorola stockists, the phone maker said. Pricing was not disclosed. ®
Similar topics