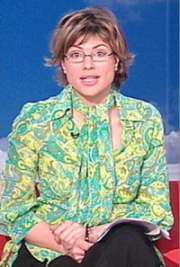 This just in: BBC presenter Kate Silverton was forced into an on-screen apology to viewers after her "psychedelic" blouse had Middle England choking into its Coco Pops.
Silverton hit the sofa on BBC Breakfast yesterday in an ill-advised and potentially lethal lime green and yellow blouse/scarf combo, prompting outraged viewers to demand immediate action, the Evening Standard reports. She duly announced: "My blouse has divided opinion. I apologise if it has made you turn down the contrast on your set."
This is not the first time 35-year-old Silverton has courted TV controversy, the Standard notes. Last year her News 24 co-host Philip Hayton resigned from the Corporation after 37 years' loyal service, saying he "could not stand working with her".
She appears, however, to have failed in this attempt to dislodge fellow presenter Bill Turnbull, who "maintained a polite silence" throughout the blouse crisis. He is not reported to be suffering any permanent optical damage as a result of prolonged exposure to the fluorescent apparel of death. ®