This article is more than 1 year old
Sony Ericsson W810i Walkman phone
The iconic music phone series' latest addition
Review The W810i is Sony Ericsson's latest Walkman model, but it shares most of its features with the older K750i and the W800i. There are some major enhancements, especially if you intend to use it as your MP3 player. The play controls have been vastly improved and there's now a dedicated button that launches the Walkman music player, but is all this enough to convince people to buy the phone?
To be honest, if you already own a K750i or a W800i then the W810i won't be much of an upgrade. Sure, the W810i is much improved as a music player, but the screen resolution is still a fairly paltry 176 x 220 pixels, which just can't compete with the latest 240 x 320 devices from Sony Ericsson's competitors. The camera is also stuck at two megapixels, but sadly there's no lens protection this time around. Auto focus and an LED flash are also present.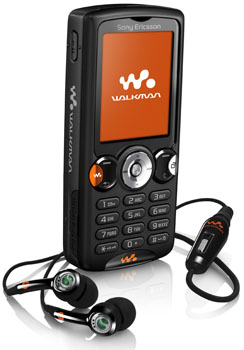 Some of the internal workings have been upgraded, and the W810i is a quad-band GSM phone with support for EDGE, although not all UK networks supports EDGE as yet. The internal memory has been decreased from 34 to 20MB, although there's a 512MB MemoryStick Pro Duo in the box, so there shouldn't be any problems with space.
At 10 x 4.6 x 2cm and 99g in weight, the W810i is about average size and it is comfortable to hold. Gone is the joystick of the W800i and in its place is a four-way pad with a button in the middle. At first it looks like the middle control is a joystick, but it's a select and play/pause button. To move around in the menus you press the outer ring, which also doubles up as volume up/down and for skipping forward/backwards between tracks or fast forward/reverse inside a track.
On the left of the navigation pad is the dedicated Walkman button which is bright metallic orange and which launches the music playback application. Next to it is one of the soft keys that corresponds to the current screen option and just below that is the back button. On the right-hand side is the second soft key and the clear key as well as the short cut menu button that gives you instant access to your shortcut list of applications.