Computex 2006 Is it a notebook or a desktop? Taiwan's Dialogue Flybook VM doesn't seem sure either, thanks to a novel screen hinge mechanism that literally lifts the machine's 12.1in, 1,280 x 768 widescreen panel up and away from the keyboard unit.
The third-generation Flybook - the first two series distinguished themselves with their tablet-style fold and rotate display - was on show at Computex this week. Like a regular laptop, the VM's screen folds back on a hinge at the rear. However, it's also mounted on a telescopic stand allowing the display to be position upward and forwards more like a desktop LCD monitor.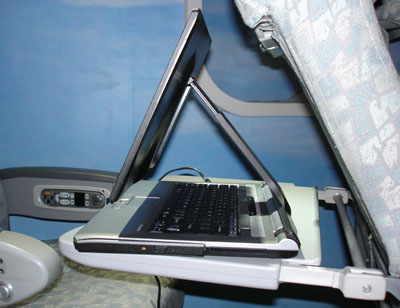 The internals are totally notebook: a 1.66GHz low-voltage Core Duo processor, Intel 945GM integrated chipset and Intel ProWireless 3945ABG Wi-Fi adaptor - this is Dialogue's first machine capable of carrying Centrino Duo branding.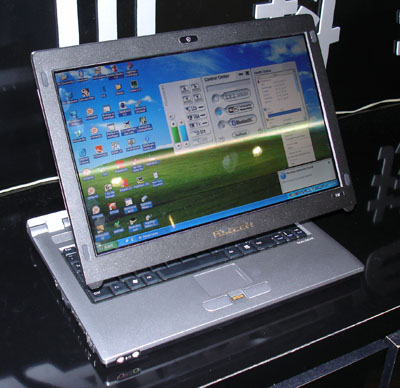 In addition to Wi-Fi, the VM has Gigabit Ethernet and Bluetooth 2.0 but this time round Dialogue appears to have dropped the built-in GSM/GPRS/EDGE radio found on earlier models. However, there's an ExpressCard slot for when card makers get round to migrating from old-style PC Card products.
The VM will ship with at least 512MB of DDR 2 memory on board, expandable to 2GB, and a 1.8in, 30GB hard drive. There's an integrated VGA webcam, stereo speakers and multiple microphones connected in an array for superior background-noise reduction. It has a fingerprint reader, too.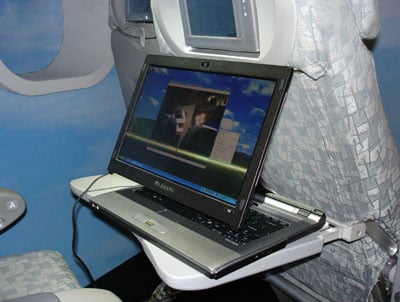 The machine weighs 1.64kg and measures 29.2 x 22.2 x 2.6cm - so it's not very much bigger than earlier Flybooks. There's no word yet on pricing or availability. ®
Full Computex coverage at Reg Hardware