This article is more than 1 year old
Future hype: the myths of technology change
About time this change thang was given a kicking...
Book review Do you believe that the rate of technological growth is accelerating exponentially and that the human race is approaching a singularity that will transform it fundamentally?
This idea, championed by techno utopian writers like Vernor Vinge (The Coming Technological Singularity), James Gleick (Faster), and Ray Kurzweil (The Singularity is Near), has become quite fashionable lately.
If so, Bob Seidensticker has a message for you: "Everything you thought you knew about technology change is wrong."
Of course, it's not really that bad - he just wants to get your attention. But Future Hype does a good job of challenging, and partially rebutting, some of the wilder ideas in circulation. The book is divided into two parts. The first rebuts popular misconceptions about technology change, focusing on nine familiar "myths", while the second roams further afield to reassess the nature of cultural change and the factors that control it.
Seidensticker reminds us that plenty of life-changing inventions were made in the past. Borrowing from Monty Python's Life of Brian, he asks: "All right, all right. But apart from the printing press, electricity, the telephone, and the foundations of medicine, agriculture, transportation, civil engineering, and communication, what has technology from the past ever done for us?"
Not only don't we get excited about technology invented before we were born, he points out: we barely even notice it. It's the cool leading-edge stuff that gets all the attention. A related idea is encapsulation - the process by which technology is progressively hidden from its users - which Seidensticker considers inevitable and usually beneficial.
Yet, older technology is often better. Magnetically-recorded digital data is illegible within a decade or two; but text printed on acid-free paper lasts for centuries, while ancient inscriptions on stone and ceramics have lasted for millennia. With proper maintenance, the Golden Gate Bridge is expected to last for 250 years - while Chartres Cathedral is still in fine shape 800 years after it was built [mind you, all we see today, 800 years on, are the cathedrals that didn't fall down - possibly lots did - Ed].
Seidensticker applies Abraham Maslow's Hierarchy of Needs to analyse the real human value of various types of technology. Live in the woods for a week with no technology at all, he suggests, and see if it's your laptop that you miss most (although there are always exceptions to the rule - see this and subsequent strips).
Apart from the main argument, this book is stuffed with interesting facts, figures, ideas, and points of view. My copy wound up bristling with place-markers. Seidensticker treats us to some splendid quotations. My favourite is a remark by Bjarne Stroustrup: "I have always wished that my computer would be as easy to use as my telephone. My wish has come true. I no longer know how to use my telephone."
For some reason, possibly to avoid the taint of academia, Seidensticker gives "chapter notes" instead of end notes. This means that, instead of having a convenient symbol to tell you that there is a note or reference awaiting your attention at the end of the book, you have to guess. It is really not an improvement.
Seidensticker admits to a slight US bias, for example, he says that most houses today are built from wood; and quotes (with approval) a Xerox executive who predicted: "We'll have paperless offices about the same time we have paperless bathrooms."
There is the occasional outright howler, such as Mary Shelley's 1916 novel Frankenstein (actually 1818).
The author's thinking sometimes seems to be coloured by his days at Microsoft. For example: "We were told that nuclear bombs would be used to excavate harbors, space travel would be practical, desalinized sea water would irrigate deserts, the Network Computer would replace PCs, and electricity would be sent without loss over cryogenic power lines."
Can you spot the piece of insider trivia mixed in with the big chunky technical advances? He is also rather hard on the internet, quoting Esther Dyson ("Most of the content on the internet is total rubbish"), and asking if it is "the plastic of the 21st century".
There is a supplementary website for this book. Along with quite a lot of, er, hype about the author and his book, it includes a page of "links to interesting things" - mostly books, and mostly without URLs.
Future Hype: The Myths of Technology Change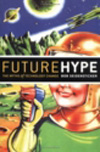 Verdict: Future Hype is a good read, well written and argued, and loaded with interesting facts and figures - a worthy successor to Steven Schnaars' classic Megamistakes. Recommended, whether or not you agree with its core thesis.
Author: Seidensticker, Bob
Publisher: Berrett-Koehler
ISBN: 1576753700
Media: Book
List Price: £14.99
Reg price: £13.87