Convergence and ip.access
Another important aspect of the TTPcom technologies is that they promise a cost effective way of converging W-CDMA handsets with Wi-Fi, WiMAX and mobile TV, which will support the multi-network integration that is critical to Motorola's strategy to place itself back in the centre of the networks business after its failure to lead in W-CDMA.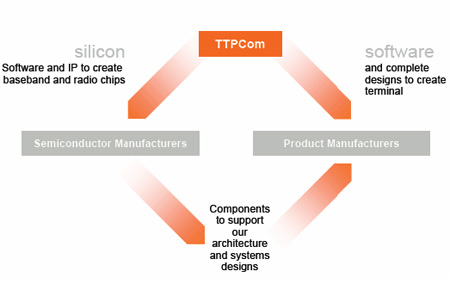 The TTPcom position in the cellular industry
TTPcom has developed a unique architecture that separates the access technology from IP transport protocols, effectively creating a multi-standard handset.
Another interesting aspect of TTPcom for Motorola could be its 47.5 per cent stake in ip.access, a pioneer in 3G pico base stations which improve in-building coverage, a vital issue for companies looking to support fixed-mobile convergence over wireless networks, for enterprise and home markets.
In January, Motorola launched its AXPT for indoor coverage, which can be added to any existing UMTS network and is designed to enable mobile operators to tap into the enterprise broadband market – and in future, with cheaper models, the home - by maintaining cellular traffic after the user moves indoors.
The economic gap between pico base stations and Wi-Fi access points is narrowing with better components and a current bill of materials down to about $150. This means that such devices could soon be embedded in enterprise equipment and also home gateways, supporting fixed-mobile strategies that use 3G only, as an alternative to cellular/Wi-Fi solutions such as UMA.
With Ericsson and others set to launch into this market soon, a share of ip.access could be a valuable boost for Motorola, especially as one of the cornerstones of its strategy is to use a mixture of wireless technologies, including WiMAX, Wi-Fi and HSDPA, to support a digital home system that also includes its handsets and in-home devices.
TTPCom confirmed that the ip.access stake is part of the proposed acquisition.
Copyright © 2006, Wireless Watch
Wireless Watch is published by Rethink Research, a London-based IT publishing and consulting firm. This weekly newsletter delivers in-depth analysis and market research of mobile and wireless for business. Subscription details are here.
Similar topics