This article is more than 1 year old
Tyan unleashes 16-core 'personal' supercomputer
Eight Xeons, one Typhoon
Computex 2006 Taiwan's Tyan today pledged to ship a deskside "personal supercomputer" powered by eight Intel low-voltage 'Woodcrest' Xeon processors and packing up to 48GB of memory in the fourth quarter. But expect to pay at least $10,000 for the wheel-mounted machine, the company said.
Named Typhoon - it'll "blow you away", quipped Tyan CEO Symon Change - the 68 x 36 x 32cm system contains four removable motherboard units, each with a pair of dual-core Xeon 5100-series LV CPUs and 12GB of registered 533MHz or 667MHz DDR 2 SDRAM. Each 'node' board can take a single SATA storage devices.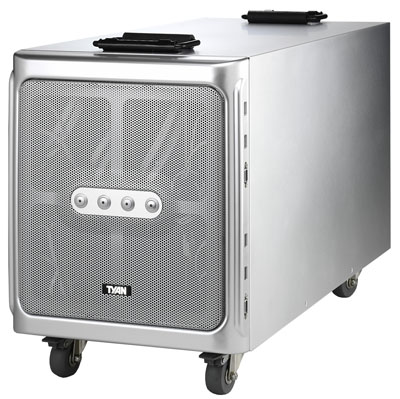 The four nodes run co-operatively using Windows or Linux clustering software to deliver "respectable" performance for scientific apps, Chang said. And for business and productivity tools too, it added - the company wants to broaden the machine's appeal beyond boffins and engineers.
The Woodcrest-based Typhoon, the B5372, will be preceded by the B5191, this time based on four 'Conroe' Core 2 Duo CPUs but capable of taking up to 64GB of unbuffered 667MHz DDR 2 connected via an Intel 3000 North Bridge - the B5372 uses the 'Blackford VS' chipset. The Conroe machine is aimed at "cost-conscious" buyers, Tyan said, the other at the more performance hungry.
Both models have eight USB and eight Gigabit Ethernet ports. They ship with an XGI Volari Z7 (XG20) GPU with 16MB of dedicated graphics memory. Each box consumes just under 1,400W in total - each node has its own PSU and requires its own power cable. If the power draw is high, the noise isn't: Typhoon generates under 45dB, Tyan said.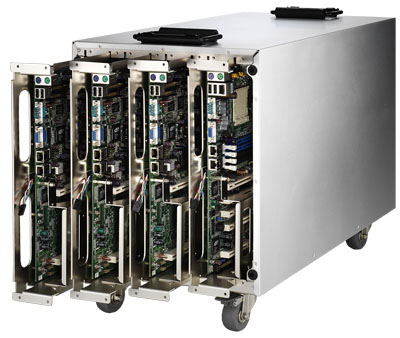 Tyan said Typhoon would going into mass production later this year: August for the B5191, with the B5372 coming in October. Tyan said prices will start at around $10,000 - plenty for a personal computer, but rather less than comparable supercomputing cluster set-ups cost, the company claimed. ®
Full Computex coverage at Reg Hardware