This article is more than 1 year old
Intel's server chip chief knocks Itanium, Gates and AMD
One of these is not like the others
Has Pat Gelsinger sinned? We think so. Intel's former CTO and current sever processor chief made one confession after another, during a session yesterday at Stanford University. Gelsinger did the unthinkable by knocking Itanium and Microsoft and unleashed some future product details. He even dashed into the uncomfortable territory of suffering from a mother's disappointment for her son.
It may have been the weed-addled computer science students in the audience or a splash of LSD plopped into the executive's water bottle. Something had Gelsinger feeling good and loose upon this return to his alma mater to take part in a speaker series that is part of the students' course requirement.
"I have wonderful, fond memories of Stanford," Gelsinger said. "I quit Intel three times and, on multiple occasions, they hired me back to the company, so I never finished my PhD."
The lack of the doctorate would come back to haunt Gelsinger as he surged up Intel's executive ranks. After informing his mother that he'd been named Intel's first ever CTO, she responded, "That's great, honey. What's a CTO? When are you going to finish your PhD?"
"So, I still have never quite made it in my mother's eyes," Gelsinger said.
No tears were shed, as Gelsinger used this anecdote to ingratiate himself with the Stanford crowd and prove he's not just a brain locked away in a nerdery but instead a real huckster.
Of course, you all probably care less for Gelsinger's Freudian issues than for product information. So, here we go, starting with the grandest confession first.
"I have not in my career been an Itanium advocate," Gelsinger said, noting that being forced to run the Itanium business has been an "interesting exercise." This comment garnered big laughs from the students who seemed fascinated by Itanic.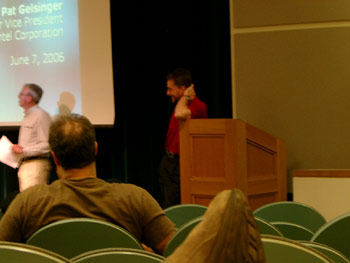 Gelsinger admitted that Intel "was way optimistic at how fast we could create a new software paradigm."
"In a five year period, you can't move the software industry," he said. "You just can't get it done."
Too bad HP's customer base didn't get that memo.
An Intel man to the end, Gelsinger went on to defend Itanic, claiming the fifth miracle in the processor's history.
"Amazingly, my Itanium business today is doing great. Demand is strong. The market is taking off. . . . Everybody on the planet has lined up to build their mainframe replacement behind it."
Which is true, if by "everybody," you don't count three of the four largest server vendors and ignore the fact that no vendor other than HP sold more than 230 Itanium servers in the first quarter, according to Gartner. Gelsinger noted that Itanium sales are now half as large as SPARC and Power sales. He failed to mention that Itanium sales only account for half of HP's RISC/Itanium revenue as well and that total Itanium sales reached only $625m in the first quarter, while RISC sales hit $3.9bn. But let's not split "industry standard" hairs.
You can, of course, only talk about Itanic so much - a maxim we've done out best to bust. On to the good stuff.