Seagate touts revolutionary notebook HDDs
Momentus offerings
Seagate has launched three new families of notebook hard drive under the Momentus monicker. The most radical drive is the hybrid Momentus 5400 PSD (Power-Saving Drive) which adds 256MB of Flash memory to a 5,400rpm SATA300 2.5 inch hard drive.
The Momentus also has 8MB of conventional cache memory. The highest capacity model of PSD will achieve 160GB of storage with two platters and four read/write heads.
Non-volatile Flash memory can be used to store system files to allow Windows Vista to boot faster as the notebook can load files into system memory before the drive platters have started to spin. Seagate claims the drive allows Vista to resume from hibernation 20 per cent faster than a conventional hard drive.
"Windows Vista," you cry, "What about Widows XP?" Good question. Samsung announced its HHD (Hybrid Hard Disk) at WinHEC in May and made it clear that the drive would only be available in OEM PCs that are supplied with Windows Vista as the HHD was developed in co-operation with Microsoft.
Seagate seems to be taking a different line by directing its interest towards the notebook drive market as shipments are growing like crazy while the desktop drive market is flat.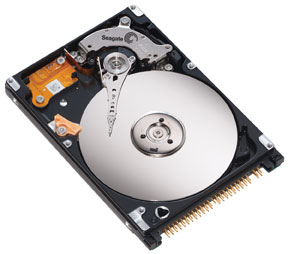 Hybrid technology brings an extra benefit to the mobile sector as the drive can stop spinning once your files are loaded, reducing hard drive power consumption by 50 per cent, however, the Vista tie-in suggests that the Momentus PSD won't ship until January 2007. We've put a call in to Seagate and are waiting to hear what benefits, if any, hybrid technology brings to Windows XP.
The other Momentus 5400 drive in the Seagate announcement is the 5400.2 FDE, which prevents unauthorised access to the data on your notebook. The drive has a hardware-based full disc encryption system which performs all cryptographic operations and key management within the drive. You use a password to gain access to the drive and in many respects the encryption works like existing security products.
However, Seagate claims a number of distinct benefits to its approach: "The encryption speed matches the throughput of the SATA150 or ATA100 drive interface to preserve system performance. System performance and battery life are superior to software-based disk encryption. You can quickly erase drives that are repurposed or retired. Full Trusted Platform Module (TPM) support for local cryptographic key backup and archive, providing key management capabilities for individual users to large organisations."
Spin speed is 5,400rpm, capacities are 60GB, 80GB and 160GB (two platters and four heads on that model) with 8MB of cache.
Finally, we have the Momentus 7200.2, a 7,200rpm notebook drive with either 8MB or 16MB of cache. It's going to be available in 80GB, 100GB, 120GB and 160GB versions and has a SATA150 interface, offering desktop PC performance in a small form factor.
The official word is that the three models will ship in the first half of 2007, which sounds like a polite way of saying "wait until Windows Vista launches". ®