The new SDR-S150 is an update of the SDR-S100 camcorder which records to SD card, rather than DV tape, hard disk, or DVD.
The SDR-S100 uses conventional SD media which has a maximum capacity of 2GB, while the SDR-S150 supports both SD and the brand new SDHC (SD High-Capacity) card.
SDHC is the same physical size as SD but meets the new SD specification version 2.00.
Current SD cards comply with Version 1.01 and Version 1.10 and use either the FAT12 or FAT16 file system but Version 2.0 uses FAT32, just like Windows 98. This latest specification was established to meet the growing demand for HD (High Definition) video and high-resolution image recording now used in many SD-enabled devices and supports cards up to 32GB in capacity.
Sales of SDHC are scheduled to begin in August. The SDA (SD Card Association, which is led by Canon, Kodak, HP, Infineon, Matsushita, Motorola, NEC, Nokia, Samsung, SanDisk, Sharp and Toshiba, has also established a Speed Class designation for the standardisation of data transfer speeds.
The idea is that Class 2, Class 4, and Class 6 will have guaranteed increases in speed from one class to the next, instead of relying on the different standards of individual manufacturers.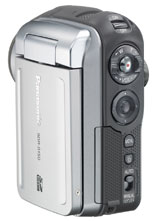 Panasonic's new SDHC Memory Card has a capacity of 4GB and a data transfer speed of up to 5MB/s. It is compliant with the Class 2 SD Speed Class specification, which makes it suitable for recording MPEG2 video at standard definition quality.
SDHC is not backwards compatible and can only be used in an SDHC host device. You can use regular SD media in an SDHC host device.
Getting back to the SDR-S150, it retains the triple 800K CCDs of the S100, along with 10x optical zoom, however, the digital zoom figure has been boosted from 100x to 700x - in our opinion, this adds no value to the camcorder.
Start-up time is still a speedy 1.5 seconds. The S150 is very slightly larger and heavier than the old model with dimensions of 49.9 x 100 x 83.1mm and a weight of 250g without the battery, so you'll need to add 20g or so to get the true figure. Oh, and 2g for the SD card of course.
Recording in MPEG2 format you can record one hour 40 minutes of footage on a 4GB card (704x480, SP mode, 30 fps) or you can squeeze three hours 20 minutes in LP mode. ®
Sponsored: Ransomware has gone nuclear