Sony unveils its first D-SLR, the Alpha 100
What next, the beta?
Sony's new D-SLR Alpha 100, or α100 if you prefer, takes over where Konica Minolta left off when it pulled out of the camera business earlier this year.
The Alpha combines a Sony 10 megapixel APS sensor with a stack of technologies including Super SteadyShot which is mounted in the body of the camera, rather than the lens.
The anti-dust protection system uses an anti-static coating on the CCD to repel dust, and also vibrates the CCD each time the camera is turned off in order to shake off dust particles.
On the subject of lenses, the Alpha uses mount which is compatible with the Minolta A-type Bayonet Mount, which should appeal to photographers who have made an investment in Minolta kit, and Sony also promises to deliver 20 interchangeable Carl Zeiss lenses under the Alpha brand by the end of the year.
The lens pricing is extremely competitive at £599 (body only), however, we are told there will be options to buy the Alpha with a lens at £699 or with two lenses for £849.
As a sign of Sony's intent to deliver a serious product, the Alpha includes a Compact Flash/MicroDrive slot with a MemoryStick Duo adapter in the package. This makes the Alpha the first non-MemoryStick Sony camera in living memory without rendering your stocks of Sony memory products redundant.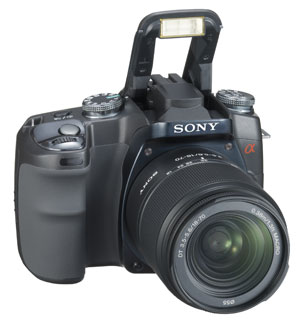 And the nitty gritty: The CCD has a rating of 10.8Megapixels (gross), which is 10.2Megapixels (effective), giving a maximum image size of 3,880x2,600 pixels. The BIONZ Image Processing Engine supports both RAW and JPEG formats.
Snapping is assisted by a 2.5 inch 230K LCD screen, and you get a flip-up flash with Auto, Fill, Rear Flash Sync and Wireless functions. Sony will launch a couple of hot shoe flashes under the Alpha brand later in the year.
The dimensions are compact at 94.7x133.1x71.3mm and the 545g weight (without battery) is modest, however, we have yet to use a digital camera without power, so the figure of 630g ready to shoot is far more relevant.
Sony supplies a 1700mAh InfoLithium battery which is rated for 750 shots with 50 per cent flash usage. You get the usual Video Out and USB 2.0 ports, as well as PictBridge support. ®