"A sigh of relief" is how Marc Fleury describes reaction to the purchase of JBoss by Red Hat. And this seems fair enough. As an exit strategy this one lets "JBoss, a division of Red Hat" continue on its way, but with more money and international support ("out of the gates", Red Hat is starting on translating JBoss material into six languages).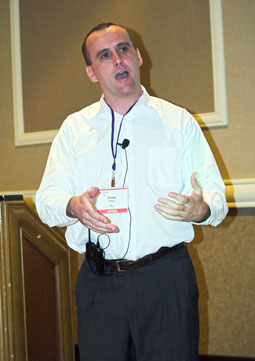 Marc did consider an IPO, but that's a lot of work and not exactly risk free these days (he seemed visibly relieved that the Red Hat purchase negotiations were all over and that the money had actually, finally, flowed to where it was going; overnight interest is significant on large sums).
Other companies were interested in purchasing, but it is hard to see any of them leaving JBoss's management (or its "small company passion") alone and, whatever Marc once thought of Red Hat (he did, thank God, make a light-hearted reference to this), it now seems to be a natural home for his company. We shall see, but it I didn't see any incipient cracks forming while talking with Marc and Matthew Szulik (CEO of Red Hat) and at least one JBoss developer said he found his opposite number in Red Hat sympathetic enough.
The new company still isn't that big (1,600 souls, I think) but it has a global reach and channel which Jboss didn't have, and it claims the same "small company passion". And it has some interesting products: I was interested in JBoss Cache, JBoss Groups (reliable multicast, which does the "heavy lifting" for JBoss Cache)and its new SOA/ESB focus. Bela Ban's refactoring approach (he's now lead on JBoss Groups and originally developed JBoss Cache)is interesting too: keeping everything as simple as possible, but no simpler (he also believes that an Open Source strategy deters developers from tinkering with technologies they don't understand, because they can see how JBoss' caching, say, actually works; I hope he's right).
And Mark Proctor, project lead for JBoss Rules, presented a good strategy too - to commoditise a "Turing complete" developer-friendly rules engine while staying away (for the time being) from high-end AI stuff like natural language processing and rules analysis. He also eschews the sort of hype which says every conditional statement is a rule that belongs in the rule engine and that you can then get rid of your developers, leaving the business users to write the rules for themselves (in which case I'd worry about configuration management, testing, QA generally and all the other things professional developers know about).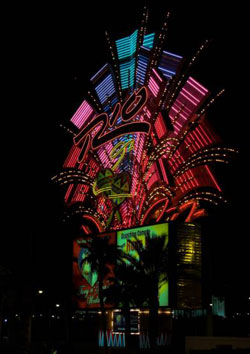 Announced at JBoss World was JBoss Seam 1.0, which builds on the latest, simplified J2EE standards and brings Web 2.0 and SOA together: "After 15 years we could barely solve the BACK button problem; well, now we've figured that out." Project Lead for Seam is Gavin King (founder of Hibernate and key features include:
EJB-based development, everything in Seam is a lightweight, fine-grained EJB 3.0 POJO, everything is an EJB;
AJAX-based remoting, an EJB 3.0 session bean can be called directly from a browser client via Ajax, and the complexity of the XMLHttpRequest API, say, is hidden from the JavaScript developer;
Declarative state management (eliminating a whole class of bugs associated with manual state management) and support for new kinds of stateful applications;
Support for business process management with JBoss jBPM and automated workflow applications;
Support for JSR-168 compliant portals (such as JBoss Portal).
Other announcements included its Open Source Enterprise Management Strategy - it is open sourcing its JBoss Operations Network(ON) management agent and providing a lot of certification and other support for managing the Red Hat/JBoss enterprise platform - and a Certified Software as a Service (SaaS) program, to promote interoperability around the JBoss Enterprise Middleware Suite (JEMS).
And, while I'm enjoying JBoss World, I don't much like Las Vegas - of all things French to build a replica of, why choose the Eiffel Tower? I am finding the casinos depressing - everyone looks so miserable and unglamorous, and I've never seen the point in gambling anyway (watching the tables, the chip-flow is definitely one-way - away from the punters). Oh well, I suppose I'm here to work, and information overload is fast approaching.®