Retailers wake up to Intel Macs' WinXP capability
UK chain targets switchers?
---
The ability of Apple's new Intel-based desktops and notebooks to run Windows XP clearly has an appeal beyond Mac enthusiasts keen to see how far they can push their machines. UK retailers too are leaping at the chance to tout the platform's multiple operating system support to sell Macs to one-time PC buyers.
Well, superstore chain PC World is, at any rate, or at least one of them is. This snap of a 2GHz iMac running Microsoft system software was taken by Reg Hardware reader Elaine not so long ago.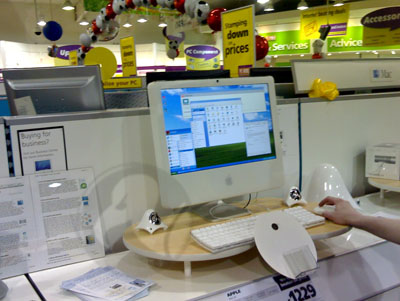 "A sales person quite happily switched from running Mac OS X to Windows XP on an iMac, and left the machine running Windows," she tells us. Apparently, the sales rep didn't suggest buying a copy of Windows XP with the desktop Mac and neither is PC World bundling the additional OS, but once Apple's dual-boot utility, Boot Camp, moves out of pre-release testing - it's expected to be finalised in time for Mac OS X 10.5 - the opportunity will be there...
Bootnote
Parallels, the company that has produced a Mac-oriented virtual machine software late last week said the code was now complete and available to buy. The tool, Parallels Desktop, differs from Boot Camp by allowing you to not only switch between running operating systems at will, but also allows you to run almost any x86-compatible OS, including Linux, Solaris and OS/2. The software costs $50 until 15 July, after which it will be offered for $80. It can be downloaded now on a trial basis from the company's website. ®