This article is more than 1 year old
Nokia N80 3G phone
Wi-Fi, 3G and three megapixels
Review The N80 is Nokia's latest attempt to offer a "does everything" phone. It's also one of the company's first handsets to incorporate Wi-Fi and to take the camera resolution to three megapixels. It's an all-singing, all-dancing phone, and it certainly cuts a dash. But does it hit the right notes?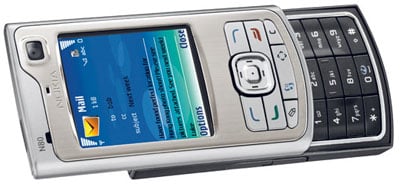 This is Nokia's first three-megapixel camera phone, although there's no auto-focus, unlike the N90. Far more interesting is the fact that Nokia has added 802.11b/g Wi-Fi to the N80. As such, it's one of the first non-Windows Mobile devices to feature Wi-Fi, although Nokia's implementation is rather unusual - and there's no bundled VoIP client. But more on Wi-Fi later.
Let's start with the basics. The N80 is a quad-band GSM/GPRS handset with EDGE and UMTS (3G). You can use it virtually anywhere in the world with the possible exception of Japan. Using the Symbian/Series 60 operating system classifies this as a smart phone.
The 2.1in screen has a rather odd resolution - 352 x 416 - but it seems to be a Nokia standard resolution on newer Series 60 devices. However, the screen looks very sharp in use and can display no fewer than 262,144 colours. The backlight on the screen automatically adjusts depending on the ambient light, although this can be slightly annoying at times.
At 9.5 x 5 x 2.6cm closed, the N80 is a rather chubby slider. It weighs in at 134g, which is rather a lot compared to other smart phones without large touch screens, which tend to weigh in around the 100g mark. It doesn't feel that great in the hand either, mainly due to the fact that it's quite wide and thick. There's no thumb grip for opening the N80 either, and with the stainless steel fascia being quite slippery – especially if you have sweaty fingers – it can be difficult to open at times.