Samsung Q1 ultra-mobile PC
Nice hardware, shame about the OS?
---
Continuing our tour of the unit, the left-hand side is home to the power socket, a USB port and, beneath a nice flush-fitting hatch, the d-sub connector. There's a second USB port on the right-hand side, along with a 3.5mm earphone socket, volume rocker control, hold switch and - bizarrely - a wrist-strap anchor. Given the weight, this is not a machine you want swinging from your wrist while you're out and about. Not to mention the looks you'll get...
The top of the Q1 is where you'll find the CompactFlash socket, 10/100Mbps Ethernet port, the on/off switch and a tiny recessed button marked with a key icon - the Q1's answer to Ctrl-Alt-Del. The power switch also activates the Q1's basic media playback app that runs without having to boot Windows first. There's also a vent for the heat coming off the Q1's 900MHz Celeron M processor, 512MB of memory, 30GB hard drive and Intel 915GM chipset. The stylus bay is next to the vent.

The back of the Q1 is contoured to make it comfortable to hold with both hands - it is comfortable to use this way, with the joystick, application launch buttons and other controls well placed for nudging with your thumbs - including a Menu key that provides access to some of the more commonly accessed settings. There's a fold out stand to keep the machine upright, picture frame fashion. The battery is built into the base of the unit - push a couple of restraining clips on the back to free it.
The joystick acts as the Q1's arrow keys rather than the mouse. You can use it to cycle through Windows UI elements and icons, but with no mouse button, you still have to pull out the stylus to push buttons and so on. The joystick is a real wasted opportunity. It should provide the Q1 with a stylus-free control mechanism - as it is, you'll barely use it at all.
The same problem surfaces with text entry. There's a pop-up virtual keyboard and character recognition entry area, but neither are suited to use without the stylus. Microsoft has bundled some extra tools with UMPC-oriented version of Windows XP Tablet Edition, including a second virtual keyboard, this time with the characters arrayed in two semicircles, one on either side of the screen, dubbed DialKeys. Alas, this is implemented as an application, so you not only have to launch it in the first place yourself but you have to toggle it on and off screen using a System Tray icon which - surprise, surprise - requires the stylus.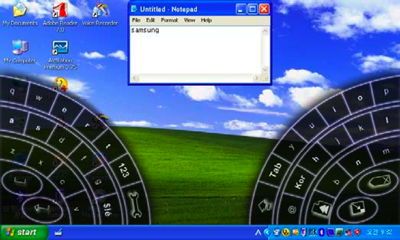 You can use a finger instead, but with a screen resolution of 800 x 400 you need to do so carefully to make sure you press the correct part of the screen.