Oz censor offs Reservoir Dogs game
Too much tomato ketchup, apparently
---
Australia has effectively banned Eidos' upcoming Reservoir Dogs game. The nation's Office of Film and Literature Classification (OFLC), which vets all movie, video and game releases, has not granted the title a certificate, and the game can't be sold without one.
According to a local newssite APC report, there's no game certification - which, like the UK system, establishes how old a consumer has to be to buy the title, legally at least - to match the R18+ certificate applied to films only adults are allowed to see. Quentin Tarantino's Reservoir Dogs movie has an R18+ certificate for exhibition and rental. The highest game certificate is MA15+, and the Reservoir Dogs game was presumably too violent to get it.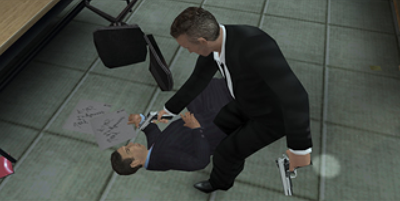 Bang...
Eidos' games are distributed down under by Atari. An Atari spokesman told the site it would not reduce the game's tomato ketchup-strewn content in order to resubmit the title in the hope of gaining an MA15+ certification.
The game is still expected to be released over here in the autumn. ®