This article is more than 1 year old
Clowns attack US nuke missile silo
Krusty versus Minuteman III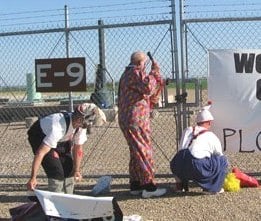 Three anti-nuke activists dressed as clowns broke into a Minuteman III facility close to the White Shield, North Dakota, earlier this week and set about a missile silo's cover with hammers, daubed a suitably pacifist slogan on said lid and then began to eat gravel when confronted by security operatives, Defensetech.org reports.
The trio of Nukewatch members - including a retired Catholic priest and two "veterans" - launched their assault as part of "a call for national repentance" for the 1945 nuclear attacks on Hiroshima and Nagasaki.
After making short work of the perimeter fence with bolt cutters, the three Krustys broke open the personnel entry hatch providing access to the warhead and "hammered on the silo lid that covers the 300 kiloton nuclear warhead", according to a Nukewatch statement.
The statement continues: "The activists painted 'It's a sin to build a nuclear weapon' on the face of the 110-ton hardened silo cover and the peace activists poured their blood on the missile lid." All of this was done "while wearing face paint, dunce caps, misfitting overalls, and bright yellow wigs".
The merriment soon ended, however, since guards "responded within minutes". When they arrived, the protesters "ate a lot of gravel", Defensetech notes.
There is, of course, a symbolic meaning to the clown SWAT outfits. Nukewatch explains: "We dress as clowns to show that humour and laughter are key elements in the struggle to transform the structures of destruction and death. Saint Paul said that we are 'fools for God's sake', and we say that we are 'fools for God and humanity'. Clowns as court jesters were sometimes the only ones able to survive after speaking truth to authorities in power."
Quite what Saint Paul would make of it all is anyone's guess, but the powers that be are in no doubt as to the seriousness of the matter, as AP reports: "The individuals were taken from the area and brought to the McLean County Jail. The three are being charged with criminal trespass and criminal mischief, both Class A misdemeanours, and bond was set at $500 each. The FBI is involved in the case and federal charges are pending." ®