Venus Express reveals double-eyed storm at planet's pole
First results looking good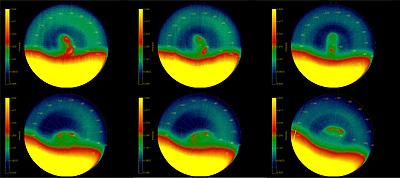 The first scientific results are already beaming back from the European Space Agency's Venus Express mission.
After spending nine days in an elongated orbit around the planet in April, the spacecraft has confirmed the existence of a huge double vortex atmospheric system at the south pole of the planet.
Venus Express made its observations shortly after arriving at the planet, when it was initially captured into the elongated orbit. This path took it between 350,000km and 400km from the planet's surface, giving scientists the opportunity for both close study, and an extended, but still distant view of the surface.
It has been known for a long time that extremely high speed winds blow westwards around the planet - they take just four days to cover the entire globe. Coupled with the recycling of the very hot atmosphere, this super-rotation is expected to produce a vortex over each pole.
Although previous missions had seen the expected atmospheric disturbances at both poles, only the north pole had been studied in any detail, and the double-eye structure had never been seen before.
"We still know very little about the mechanisms by which the super-rotation and the polar vortexes are linked," ESA Venus Express project scientist Håkan Svedhem said.
"Also, we are still not able to explain why the global atmospheric circulation of the planet results in a double and not single vortex formation at the poles. However, the mission is just at the beginning and it's doing fine; we expect this and many other long-standing mysteries to be addressed and possibly solved by Venus Express."
Venus Express has collected data in the visible, infrared and ultraviolet spectra. Each reveals something new about the planet. The infrared images, for example, reveal more details of the cloud structure than has been seen before, while the ultraviolet views show striking bands in the southern hemisphere's skies. ®