Scambaiter persuades 419er to carve Commodore 64 keyboard
No, really
---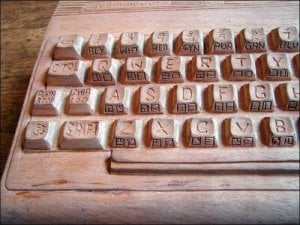 Were there a World Cup of scambaiting - the process by which net vigilantes "enter into a dialogue with scammers, simply to waste their precious time and resources" - then the following example from 419 Eater would surely lift the trophy.
It's the quite remarkable tale of how scambaiter "Shiver Metimbers" managed to persuade a hapless John Boko of the Ivory Coast to carve a wooden Commodore 64 keyboard in the belief that he was in line for a generous artist's scholarship. Boko incidentally also provided a fine representation of Trixie and Captain Cuddlepuss from Creature Comforts en route to his final humiliation.
We should point out that Shiver Metimbers had already rumbled "Boko" when he tried a classic 419 gambit under a different handle.
The "anti-scam" began when our mark switched IDs to become John Boko and sent the following email:
From: John Boko
To: Derek Trotter
Date: March 3, 2006
Subject: Special appeal

Sir,

I wish to write you this message after going through your company profile in the internet. I am a graphic designer and I am currently working with a group of four young men who are artistic and talented in art work.

After going through your web, I decided to write to know if your company could be helpful in the develoment of our career in art work design.

We are currently working as a team in a small village in Abidjan Ivory Coast, West Africa. At your demand, we shall be obliged to send to you some copies of our work.

Thanks and best regard
Mr John
Shiver Metimbers duly replied:
Dear Mr. Boko,

Thank you for your email.

Please note that we are not looking for work that has already been completed. If you require a donations/scholarship payment then you need to create a new piece of work to submit to us.

Before we proceed, let me introduce myself and tell you about my company. You may already have this information but I shall repeat it to you just in case not:

My name is Derek Trotter and I am the director of Trotter Fine Arts Dealer and Art Scholarships. We are dealers in fine art and ethnic art from all over the world and we supply many business and private customers we are a multimillion dollar company. We also offer scholarship donations to aid up and coming new artists who may otherwise not have the financial means to be able to produce or improve their work. Our scholarship payments range from between $25,000 and $150,000 depending on the potential of the artist.

The way our programme works is that we seek out new or up and coming artists all over the world who may not otherwise be financially able to promote or sell their work and then we help them to realise their full potential. We aid them by presenting them with a scholarship payment ranging from $25,000 to $150,000 which again is entirely dependent on their potential, but the minimum payment we award any artist willing to supply work for us is $25,000. Presently we are seeking artists who specialise in wooden sculptures...
And so the trap was set. For the truly luvvly jubbly, blow-by-blow account of how plonker Boko was ensnared, click here. ®
Bootnote
Ta very much to Ihar Filipau for alerting us to this scambaiting classic.