This article is more than 1 year old
Nokia N70 3G phone
Nokia's best smart phone yet?
Review Ask Nokia and it will tell you its N series handsets are the acme of mobile phones. So much so that we're not even supposed to think of them as telephony devices but as "multimedia computers" that are "the next leap forward in personal computing"...
Meanwhile, back in the real world, Reg Hardware finds itself with an N70 3G phone - let's call a spade a spade and not a humous mobility implement - from those nice folk at T-Mobile. It's a 3G device, but unlike the N80 we reviewed t'other week, it's doesn't have Wi-Fi. Bluetooth 2.0 is part of the spec, however.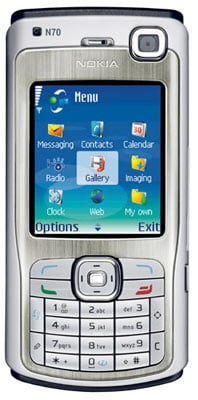 Next to the N80 slider, the candybar N70 feels positively slimline. It's still a couple of centimetres thick, mind, but it feels very comfortable in the hand. Its size makes for a very favourable comparison with my chunky, two-year-old GSM-only Nokia 6600, but looks beefy compared to the svelte Sony Ericsson W810i, for example. At 126g, it feels solid rather than heavy.
The front of the N70 is dominated by the gorgeous 2.2in, 176 x 208, 262,144-colour display surrounded by the N series' trademark stainless steel trim, itself bordered by black plastic which wraps around the handset's silver-look plastic shell. It's a stylish look that's business-friendly without appearing conservative. That said, this colour scheme is the T-Mobile World Cup variant - the regular version wraps silver plastic around a charcoal body. Personally, I'd say the T-Mobile model looks better: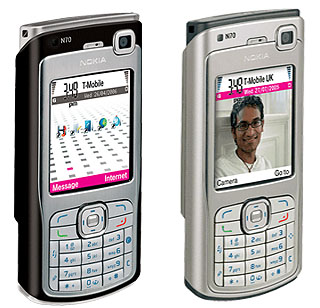 Below the screen, the keypad layout is compact but well designed and the keys sufficiently rounded and with just the right resistance to pressure for easy thumbing - text entry is quick and comfortable. The navigation control is raised slightly, but I still occasionally hit the call make/break and soft menu keys by mistake.
The top of the phone is home to the power switch and the speaker. Unlike plenty of past Nokias, the N70's power key isn't hard to activate, but there's still room for improvement. Why do Nokia power buttons never provide any tactile feedback? Time to move to the press-an-hold-the-call-end-button approach, folks. There's a loop attachment at the top, too, for folk who like to dangle their devices.