This article is more than 1 year old
Nokia N70 3G phone
Nokia's best smart phone yet?
The N70 operates as a modem, connecting to the host machine by Bluetooth. I gave it a whirl, downloading Russ Barkman's handy Nokia 3G modem scripts package for his website, which also provided the T-Mobile access data. I connected on my first attempt and while 3G isn't quite broadband, it certainly beats GPRS. For web browsing and email, it worked just fine. Like GPRS, though, JPEG images in websites tend not to come out of the download too well.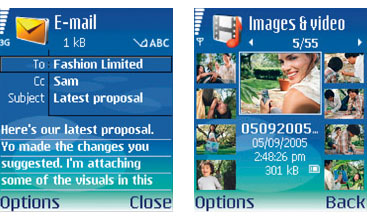 Speaking of speed, the N70's hardly zippy, either. It's by no means slow, but I've used phones that load apps and process data more quickly. It's certainly faster than my ancient Nokia 6600, but not as quick as you might expect as up-to-the-minute handset to be - or for a "high performance multimedia computer", as Nokia claims the N70 to be. In this instance, I'd happily trade a higher processor clock speed for some of the battery life. The N70 uses Nokia's standard compact battery but there's plenty of room under the hatch for a larger power cell. It wouldn't add that much to the handset's weight...
As it stands, the 970mAh delivers a claimed 3.5 hours' talk time on GSM, less with 3G, and an 11-day standby duration. You can disable 3G if you wish, but you're probably going to be recharging the N70 every night if you make plenty of calls, or every couple of days if you're a more moderate caller. The bottom line: the battery life's by no means poor, but it's certainly disappointing. If you're already in the habit of charging your phone regularly, you won't mind, perhaps, but it's a shame the N70 is still delivering the kind of battery life we were experiencing two years ago.
The N70 is equipped with the Symbian operating system, but it's Nokia's own Series 60 that users interact with, and its latest release maintains its ease of use and provides all the PIM and messaging tools you need. There's now Active Standby mode, which adds a Window Mobile Today-like screen, complete with five application and/or activity - eg. new text message - shortcut icons. Or you can set the navigation control to operate as a set of five application buttons.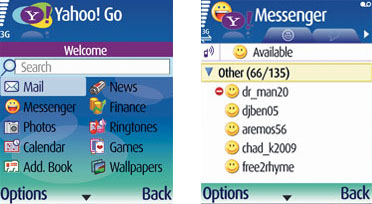 Little else has changed as Series 60 has evolved, however. The PIM apps look much the same and don't appear to have gained any major new features. One change that is unwelcome is the behaviour of the call-break key when you're in any app other than the main telephone screen. Hitting it still takes you straight back to phone mode, but now the app you were in quits rather than being placed in the background. Go back to that app and you have to wait while it loads again. Before, the transition was almost instantaneous.
The N70 supports Nokia's radio-with-pictures system, Visual Radio. Apparently. I gave it a whirl. The only London and/or national station the supports VR is Virgin. I selected the station, and activated VR... only to be told: "Sorry, but the mobile network you are currently accessing does not support the Visual Radio service." Fine, but why not figure this out beforehand, grey out the option and save me some data access?