This article is more than 1 year old
Nokia N70 3G phone
Nokia's best smart phone yet?
Nokia's headset is bright white - good, perhaps, for iPod wannabes, but not for the N70's own styling. The wires are clad in a woven fabric. Presumably it's meant to look and feel more up-market than plain plastic, but it's too stiff and I didn't like it. Besides, the earpieces are large and clunky. The sound's not bad half bad though, and the Music Player app does everything you'd expect it to - it'll even play in the background while you run other apps. And despite Bluetooth 2.0, there's no A2DP support for wireless stereo.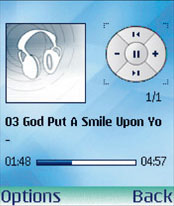 The N70 supports music downloads, though you may need to download a third-party app to make it work: T-Mobile's Music Jukebox app, in this case. Alas it isn't as good as Nokia's Music Player - it couldn't see the MP3s I'd copied over to the phone, so I need to run two music apps, depending on what music I want to hear. Oh, and the playback stuttered up every time I selected one of the soft menus.
Even using 3G, downloading was far from broadband speed, as I found using the N70 as a modem. Roll on HSPDA, I say. Speaking of 3G, I wanted to try video calling but, hey, no one I know has a 3G phone. Not enough chums, or folk really don't care about video calling? You decide... Whatever, the front-mounted camera is fit for the purpose and has a 2x zoom setting if you want to show off your pores...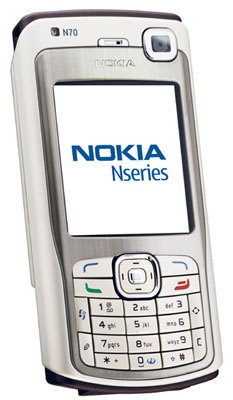 Verdict
Nokia's N70 isn't half bad. Unlike so many 3G phones - including Nokia's own N80 - it's neither chunky nor inelegant. It's got the slick look of Nokia's business phones coupled with a consumer-friendly feature set. The camera's good, and there's a nice music player for your MP3s - it supports iTunes-friendly the AAC format too, though not songs downloaded from Apple's online music store. Sure, it has its idiosyncracies - size, the lack of flight mode - and the battery's life could be (much) better, but the N70 won me over despite that. A great all-rounder. ®

Nokia N70 3G phone
A rather nice feature-rich 3G smart phone let down by below-par battery life...
Price:
From £0-130, depending on monthly contract. SIM free: £350 RRP