The Space Shuttle Discovery lifted off successfully yesterday evening from the Kennedy Space Centre in Cape Canaveral at 2.38pm local time (7.38pm BST).
The launch had been postponed twice because of poor weather, and again, thunderstorms threatened to ruin the day. Fortunately, the bad stuff stayed out at sea, and the launch could go ahead as planned.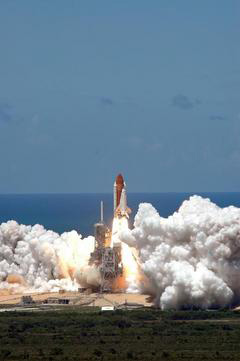 The decision to launch was taken despite fresh concerns over the stability of the foam insulation on the external tanks. After the shuttle was refueled on Sunday, engineers noticed a 13cm crack in the foam near a fuel line. There was also a smaller piece of foam missing. However, these were judged to be tolerable for launch.
The launch footage shows several pieces of debris falling from the tank. NASA scientists have flagged a few of these for further study, and will now examine the footage more closely to see whether any of these pose a threat to the integrity of the craft.
The crew will also examine Discovery using the boom sensor system. Additionally, they will perform a slow back flip, allowing cameras on the International Space Station (ISS) to take a good look at the ship from every angle.
The mission, which will deliver two tons of equipment to the ISS, has up to three space walks scheduled. The first will test the orbiter's boom arm to see how much load it can bear. The second will be to repair a power cable on the ISS.
The third, which will only happen if managers can extend the mission by a day, will see the NASA astronaut attempt to repair deliberately broken heat shield tiles. This will allow engineers to see how well such repairs withstand the rigors of re-entry.
After 13 days in orbit, the Shuttle will return to Earth, leaving German astronaut Thomas Reiter behind on the ISS. ®