This article is more than 1 year old
Cristiano Ronaldo on eBay transfer list
For sale: One ex-Manchester United player (cheat)
Updated As any true Englishman knows, our national football team's traditional crash-and-burn in the World Cup is never as a result of our own shortcomings.
Previous top quality excuses have involved excess heat, unexpectedly low atmospheric pressure, the wrong kind of grass on the pitch, players' concerns over the political situation in East Timor, etc, etc.
Mercifully, though, the 2006 debacle can be attributed to just one cause: "cheating goofy england hating portugezer" Cristiano Ronaldo whose shameful protestations at Wayne Rooney's treatment of Ricardo Carvalho led to the normally even-tempered Liverpudlian's expulsion from the match.
To add insult to injury, Ronaldo then scored the winner in the inevitable penalty shoot-out during which exhaustion provoked by indignation at Rooney's red card, coupled with an unfavourable level of atmospheric humidity and an inauspicious alignment of the planets, saw Carragher, Gerrard and Lampard cruelly robbed of the chance of World Cup glory.
In the circumstances, then, the following eBay auction is hardly unexpected: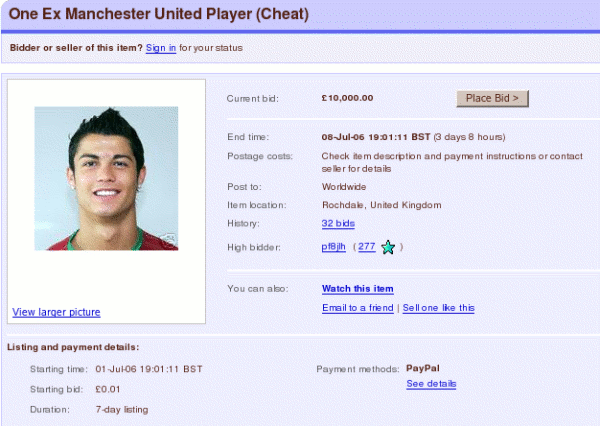 The blurb elaborates:
Cristiano Ronaldo cheating goofy england hating portugezer, requesting first class ticket out of england.

unfortunately not welcome within 120 miles of Manchester. Requires good accomodation with torture chamber and enjoys 23.5 hours a day on the rack.

Will never be allowed access to the UK ever again so if purchased, a holiday to England is out of the question.

If you are the unfortunate sucessful bidder your life will not be worth living.......we will find you!!!!
The bidding currently stands at £10k, which is a bit of a bargain when you consider Manchester United paid £12m+ for the twinkle-toed Portugeezer back in 2003. Sir Alex Ferguson was unavailable for comment this morning.
Thanks to Reg reader Ben for the tip-off.®
Update
As is the local custom, eBay pulled the auction about an hour after we published this. We can only assume the company has its eye on Mr Ronaldo as a possible starter for Dynamo Tat Bazaar FC. Watch this space.