This article is more than 1 year old
The greatest error message of all time?
Fish4 takes a dive
Error messages are usually a bland and opaque non-explanation of what has gone wrong. Especially when they're posted by large companies.
So hats off to Fish4.co.uk for a truly fine, if slightly bitter, error message. The problem is blamed on a piece of Sun equipment - a Sun Fire E6900 Server - described by Sun as an "Extreme Enterprise Powerhouse".
The message says: "Thank you for coming to Fish4 this morning.
Unfortunately the fish4 website is unavailable due to the failure of a very expensive piece of Sun hardware. A Sun engineer is at the data centre but didn't think to bring the replacement part with him."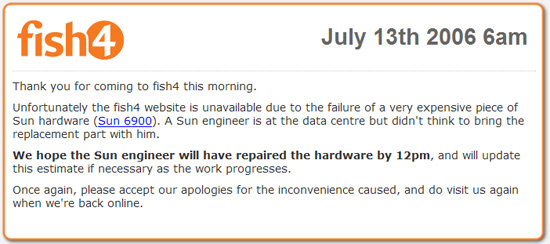 The company hopes to have the site back up by midday.
Fish4 is a collection of local small ads sites for houses, jobs and cars. It is owned by local newspaper groups and has over 30m page impressions a month.
The site, might, be available here.
Any contenders for a better error message should be sent to the usual address. ®