This article is more than 1 year old
Intel 'Conroe' Core 2 Duo and Core 2 Extreme
Intel's next-gen architecture - it's here
Review It's been a month and ten days since Reg Hardware previewed Intel's Core2 Duo processor, but now we have the official, shipping, ready-to-slap-in-your-PC product. So is it really as good as the early numbers indicated? Read on, read on...
To test its new baby, Intel sent out one of its own D975XBX motherboard with a beta BIOS that adds support for the Core 2 Duo processors. We also received a Core 2 Duo E6700, clocked at 2.66GHz, and a 2.93GHz Core 2 Extreme X6800. There was also an ATI Radeon X1900 XTX and an X1900 CrossFire Edition graphics card in the goodie box to try and keep the test rig similar to the one Intel provided for us for the controlled preview t'other month. For comparison, we used our own 3.6GHz Pentium D 960. Crucial supplied 2GB of its latest Ballistix DDR 2 memory, although the Intel motherboard didn't allow it to be clocked higher than 800MHz even though it can reach speeds of 1GHz. Finally, a Western Digital Raptor X hard drive completed the system sitting on the Reg Hardware test bench.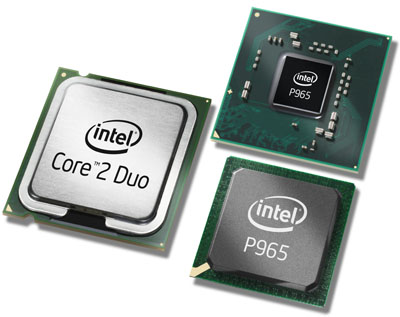 This is hardly your run of the mill PC, but as we're concentrating on the CP, the fast hardware will remove most of the bottlenecks. The 975X chipset remains Intel's top-of-the-range product, with the newer 965 family coming in below it. However, if you currently own a 975X-based board, don't expect this to be compatible with a Core 2 Duo, thanks to Intel's tinkering with the power-regulation specifications. This is fairly normal, though, and it's something that happens during most processor revisions from Intel. But it's no less frustrating, especially if you've just got a new PC and you thought you might just be able to pop a Core 2 Duo into it.