Intel 'Conroe' Core 2 Duo and Core 2 Extreme
Intel's next-gen architecture - it's here
---
But enough talk - you want to know the facts and figures: how fast is it? Is Intel the new king of the performance crown? Let's start with SYSMark 2004SE, our standard general applications benchmark. Amazingly, even the E6700 is 105 points higher than the Pentium D 960. If you consider that the reference platform that BAPCo used for the baselines score of 100 is a 2GHz Pentium 4, you quickly realise that the Core 2 Duo is a different breed of processor. The Pentium D 960 scored a - to now - very respectable 260 points. That means that the E6700 offers some incredible advance in processing power on a wide range of commonly used applications.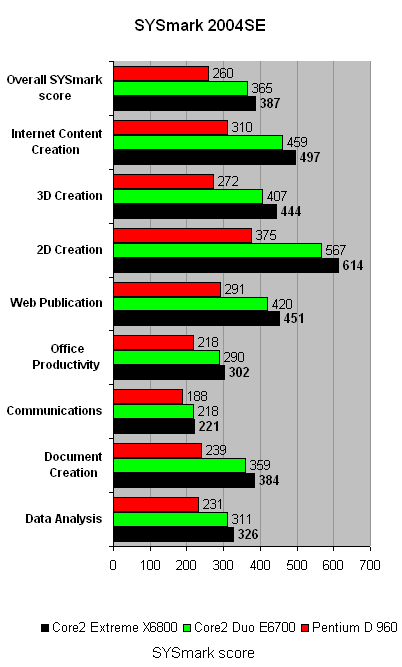 The Core 2 Extreme X6800 adds a further 22 points to the E6700's score, which is what you'd expect as an incremental performance increase between the Extreme and vanilla versions of the new CPU. The reason: the X6800 has a higher clock speed than the E7600, and that's it. It doesn't use a faster bus speed as has been the difference in the past between Extreme Edition and regular Pentium 4 processors. It is, of course, multiplier-unlocked still, so the overclocking potential is unchanged.
The PCMark 2005 results are likewise much better for the Core 2 Duo parts than the Pentium D 960, although the frontside bus speed difference would have had a larger impact here. However, the numbers for the E6700 were not quite as high as those in the initial performance preview. This is likely to be related to slightly different system specifications and configuration, and the differences are rather small.