This article is more than 1 year old
Intel 'Conroe' Core 2 Duo and Core 2 Extreme
Intel's next-gen architecture - it's here
For folks into 3D rendering, the Core 2 Duo architecture will save a lot of time. Starting with POV-Ray the Pentium D 960 took 6m 50s to render the default test with both cores, and 13m 24s on one core. The E6700 shaved over two minutes off the dual-core time, taking just 4m 30s/ The single-core test took 8m 58s. The X6800 took 4m 9s dual-core and 8m 9s single core - a 39.3 per cent and 39.2 per cent improvement, respectively.
The Core 2 Duo processors are definitely bringing some real advantage to multi-threaded applications, and as you can see from the CineBench 9.5 graph there's a huge improvement when you move to multi-core rendering. The X6800 isn't far from being twice as fast as the Pentium D 960 here, which is very impressive considering it has a much more modest clock speed.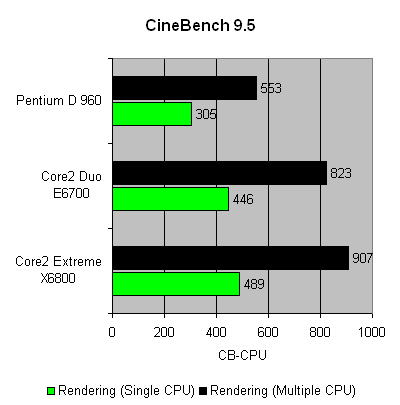 So what about gaming? Well, we had some issues with an unhappy CrossFire config, so the 3D tests are something we're going to have to re-visit at a later stage. However, in 3DMark 06 the Core 2 Duo processors doesn't appear to have a huge lead over the Pentium D 960, but the my impression of the time it took to run the benchmarks was that the Core 2 Duo chips were clearly faster.