Intel 'Conroe' Core 2 Duo and Core 2 Extreme
Intel's next-gen architecture - it's here
---
Moving on to real games, the Core 2 Duo processors are once again miles ahead of the Pentium D 960, with the X6800 almost being twice as fast in Half Life 2. The E6700 doesn't seem to be very far being in Far Cry though, even beating the X6800 when using 4x FSAA, but this is likely to be down to the graphic card not being able to process the data fast enough.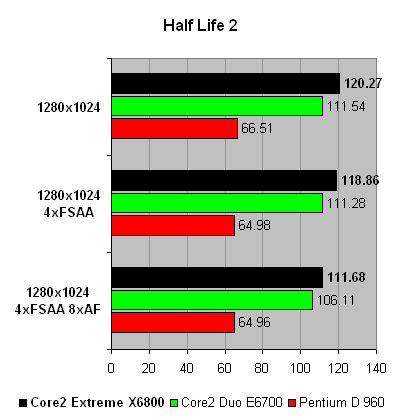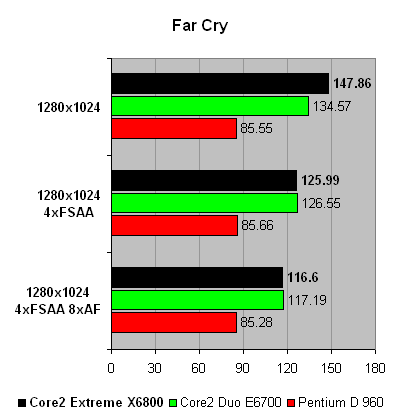 Intel has proven that it can make a very fast processor that doesn't need to run hot and noisy, something it should have done a very long time ago. There is still no official UK pricing but Overclockers UK has had prices up on its site for a few weeks now. Interestingly, Intel is planning to sell the Pentium D 960 for the same price as the E6600 Core 2 Duo part, but I can't see anyone chosing a Pentium D over a Core 2 Duo. Don't forget, the Core 2 Duo has a lower TDP.
The X6800 has an Intel list price of $999 (£543) and the E6700 comes in at $530 (£288), although the E6600 would be the one to go for at $381 (£207) as it should offer quite a lot of performance for the money.
Verdict
Intel once again has the fastest desktop processor on the market, and AMD is either going to have to start competing on price again, or pull something out of a hat to beat the Core 2 Duos speed. AMD is by no means a lost cause, but if you're after the best performing desktop processor on the planet, you'e going to be shopping for an Intel Core 2 processor. ®

Intel 'Conroe' Core 2 Duo and Core 2 Extreme
Intel is back in pole position. The sound in the background are the disappointed wails of AMD fanboys...
Price:
X6800: $999 (£543) - E6700: $530 (£288) RRP