How to fry an egg… on an Apple MacBook
MacBook → CookBook?
---
Now we know why Apple's notebooks run hot — the company wants you to own a computer you can cook your breakfast on. Well, maybe not, but hasn't stopped one enterprising user claiming to have done so. He's even gone so far as to put the laptop's AC adaptor into service as a coffee warmer.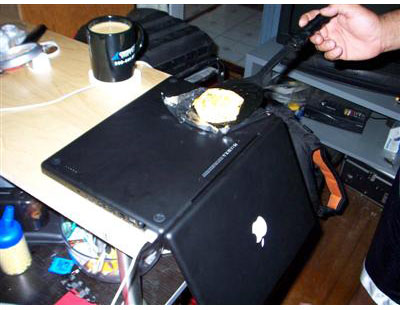 It's a gag of course, but one that highlights just how many of us MacBook and MacBook Pro users feel as we swelter over the new Intel-based Mac notebooks, particularly in the unseasonable climate the UK is undergoing right now.
Phew, what a scorcher — and I don't mean the weather… ®