This article is more than 1 year old
Cingular claims US first with HSDPA handset
Data-tastic
Cingular yesterday claimed a US first for its new HSDPA phone, a skinny black clamshell from LG, dubbed the CU500.
Cingular boasts that its new phone breaks the speed barrier, but given Joe Public's indifference, nay hostility, to mobile data, few people will be aware that there is a speed barrier to break. Still customers can always talk faster on their shiny new phones.
HSDPA is often known as "Super 3G", or "3.5G" - it's up to five times faster than vanilla 3G networks. This means that watching video and browsing the internet by phone becomes much less of a chore - even if the costs are hugely inflated compared with, say, watching video on your laptop by Wi-Fi.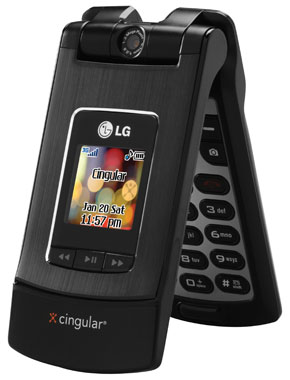 The LG CU500 comes preloaded with AOL, Yahoo! and MSN messenger clients, a "full featured" music player - and optional Bluetooth stereo headset - and a 1.3 megapixel camera. It is available in 18 major markets - Cingular expects to roll out its 3G network to most major markets by the end of the year. It costs $99 with a two-year contract. Choose the most expensive plan and you can get a $50 mail-in rebate.
Cingular has been selling HSDPA laptop cards for a year or so - road warriors on expense accounts will be a ready, if limited, market. But is HSPDA technology ready to make its way into the mainstream? The CU500 has an attractive spec and is attractively priced, so Cingular should sell units by the lorry-load. Question is, will customers avail themselves fully of the data-tastic features? The answer will be a long time coming. ®