This article is more than 1 year old
Fujitsu Siemens unveils 'lightest, smallest' sat nav box
Pocket Loox N100 series unveiled
Fujitsu Siemens today unveiled its latest Pocket Loox PDAs: a pair of models featuring integrated GPS receivers, route-planning code, a music player app and full personal information management functionality all in a unit weighing just 110g - a record, the company claimed.
The N100 series comprises the N100 and N110. Both are based on a 300MHz Samsung CPU running Windows Mobile 5.0 and 64MB of RAM, and they sport a 2.8in, 65,536-colour 240 x 320 display. GPS reception comes courtesy of a SiRFstar III unit.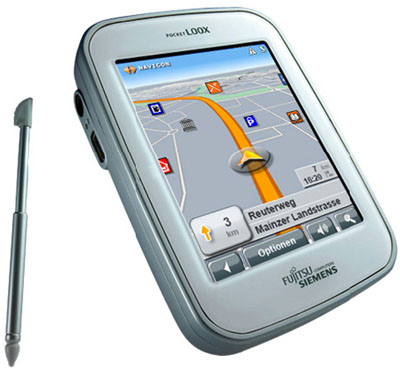 The N100 ships with a 1GB Mini SD card, while the N110 has 2GB of on-board Flash storage. Both ship with Navigon MobileNavigator 6 software and pre-installed maps for each given sales region - though every model ships with a DVD containing maps covering the rest of Europe.
Each unit measures 8.9 x 6.2 x 1.6cm and includes a 1100mAh battery. It ships with a car holder and in-car power adaptor. You also get a pair of exchangeable faceplates - white and Fujitsu Siemens grey.
Fujitsu Siemens said the N100 series goes on sale in Europe in August. Prices start at €299 (£206) inc. VAT. ®